---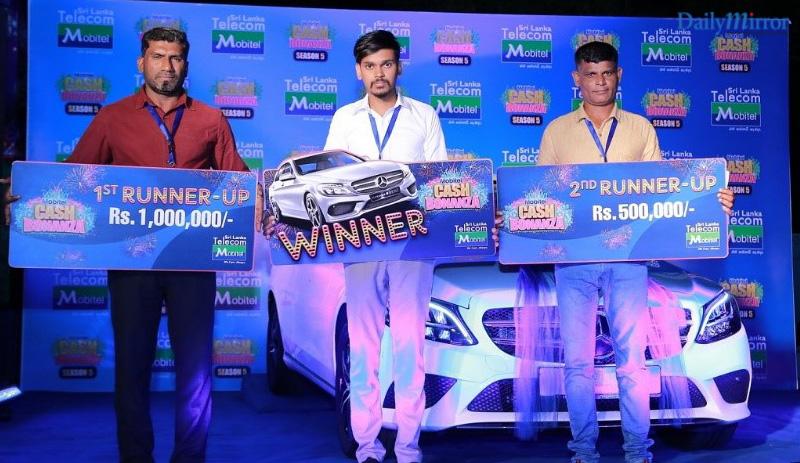 (L to R): A.C.M. Aadhil, Runners up, J.M. Gihan Lasun Harsha, The lucky winner, H.A. Nimal Rohan Senaka, First Runners up.
Bringing cheer and joy to millions of people located across the island, Mobitel Cash Bonanza, Sri Lanka's biggest prize giveaway program concluded yet another successful event, rewarding 3 lucky winners with the latest Mercedes Benz car and millions in cash prizes. J.M. Gihan Lasun Harsha from Badulla was the lucky recipient who walked away with the brand new Mercedes Benz car whilst A.C.M. Aadhil from Avisawella, who was placed second, was given a generous Rs. 1,000,000 in cash and H.A. Nimal Rohan Senaka from Kottegoda, who was placed third, was granted Rs. 500,000 cash reward at the event in the presence of their families, Mobitel staff and local dignitaries.
In addition to the grand giveaways, Cash Bonanza also conducts daily and the quarterly draws, rewarding lucky winners with over Rs. 190 Mn in cash prizes, giving away Rs. 500 each for 220,000 lucky winners' year around, making Mobitel, the only telecommunication company to run such a large loyalty rewards scheme backed by an attractive marketing campaign. Mobitel Cash Bonanza has rewarded an amazing 2.3 million customers from the time of its inception in 2015 till the end of 2019 and remains the most popular loyalty scheme of its kind for 5 consecutive years. Mobitel is renewing its commitment to its loyal customers by renewing Cash Bonanza for the year 2020 under a new theme, 'Changing Lives'. Mobitel aims to transform Cash Bonanza Carnival into a hub of entertainment, support, convenience, help, and togetherness for its loyal customers. All prepaid, post-paid and broadband connection recharge or bill payment of 50 Rupees automatically gets qualified for the Mobitel Cash Bonanza draw. The customers with pre-paid connections would be entitled to an equal talk time reflective of the amount won and post-paid connections are entitled to receive a discount from the consecutive bill reflective of the amount won. The winners would be contacted by post and through the Mobitel customer care hotline 071 27 55 777 with no extra charges levied for any of the prizes won. From bungee jumping to art competitions, IOT workshops, kids play area and Mobitel services and product kiosks, the event is an ideal showcase for Mobitel to display its Internet of Things (IoT) products and services to give visitors a peek into futuristic technology.
Furthermore, Cash Bonanza extends a range of CSR activities ranging from medical camps to distribution of spectacles and many more. Mobitel has added further sustainable value to its Cash Bonanza events by inviting visitors to bring along their E-waste, such as old computers, mobile phone batteries, printers and so on to its E-waste stall which collects E-waste and disposes/recycles them as per the environmental regulations to minimize any negative impact on the environment.