---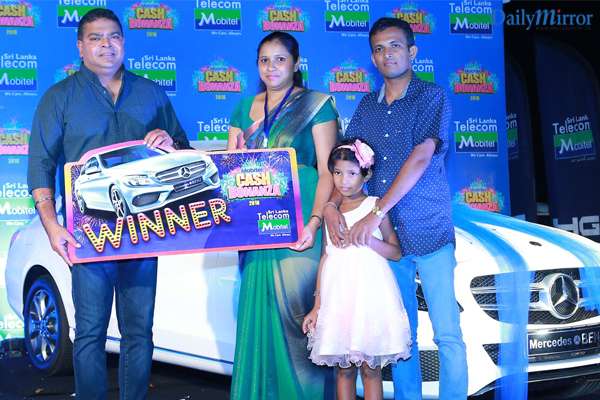 Nalin Perera – CEO, Mobitel presenting the luxury Mercedes Benz to lucky winner Buvini Charithra Liyanage and Family from Galle
•
The second Mercedes Benz is awarded to Buvini Charithra Liyanage from Galle
The eagerly awaited Mobitel Cash Bonanza for the month of July recently took place in the historic town of Matara. The National Mobile Service Provider, Mobitel pulled out all the stops to reward loyal customers with exciting benefits, prizes and surprises. The Carnival bought together families for a day of fun at the Sanath Jayasuriya Grounds in Matara, where the festivities culminated to the announcement of the grand prizewinner, BuviniCharithra Liyanage from Galle drove off with a brand new super luxury Mercedes Benz.Other winners that night were Thilak Kumara Ekanayake from Moragollagama who bagged the Rs. 1,000,000 Prize whist Ajith Prasanna from Panadura won the Rs. 500,000 prize.
The Carnival was brought to life with a musical show performed by well-known artists collaborating with the musical group "Flash Back". With ITN as the media sponsor for the carnival, the musical show was broadcast live from 10pm onwards on the channel. Numerous activities organized throughout the day for the enjoyment of the public, including of bungee jumping, art competitions, IOT workshops, a kids play area and Mobitel services and product kiosks. The gaming zone powered by the high speed 4G internet connection, the beauty culture kiosk and kiosk that provided dental services were some of the unique experiences and services provided for the amusement and the benefit of the crowd. The highlight of the event was the special eye clinic that saw the participation of renowned eye surgeons who led a distribution of 1000 reading glasses.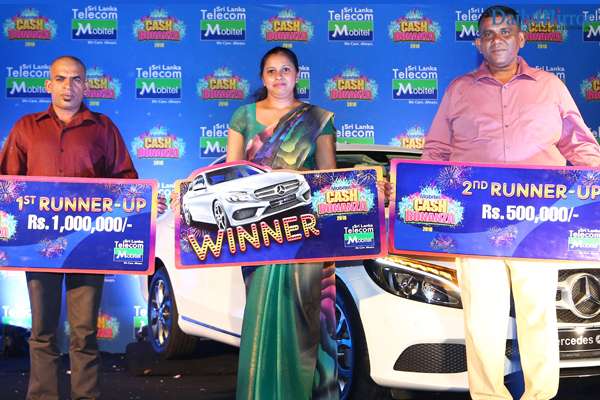 Mobitel Cash Bonanza 2018 grand prizewinner, Buvini Charithra Liyanage from Galle along with the other winners, Thilak Kumara Ekanayake from Moragollagama (Rs. 1,000,000 Prize) and Ajith Prasanna from Panadura (Rs. 500,000 prize).
The 2018 Cash Bonanza promotion is set to give away more Mercedes Benz cars this year and moreover, loyal and lucky Mobitel customers are eligible to win Rs. 190 Mn worth of Cash Prizes throughout the year in the daily and quarterly draws. As many as 220,000 daily winners can win cash prizes each up to Rs.500 on a daily basis throughout the year.
Cash Bonanza is a recharge/bill payment promotion for Mobitel customers. Mobitel Pre-Paid, Post-Paid and Broadband customers are eligible for the Mobitel Cash Bonanza draw with a winning chance for every Rs. 50/- cash recharge, reload or Post-Paid bill value payment. There is no separate registration process but all Mobitel customers are automatically entitled for the draw. For the daily cash prizes, Pre-Paid winning customers will receive the prize by way of talk time and data for the same value and Post-Paid winning customers will receive the prize by way of a rebate on their Post-Paid bill. Cash Bonanza winners will only be notified via Mobitel's customer care hotline 071 27 55 777 and in writing via post. Customers will not be charged an additional fee for any prizes they have won.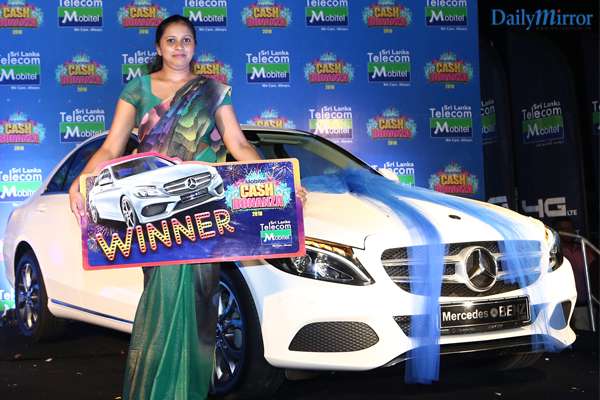 The second Mercedes Benz lucky winner Buvini Charithra Liyanage from Galle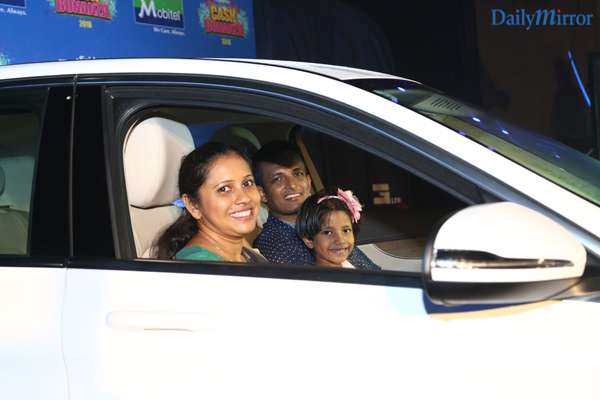 The second Mercedes Benz lucky winner Buvini Charithra Liyanage and Family from Galle