---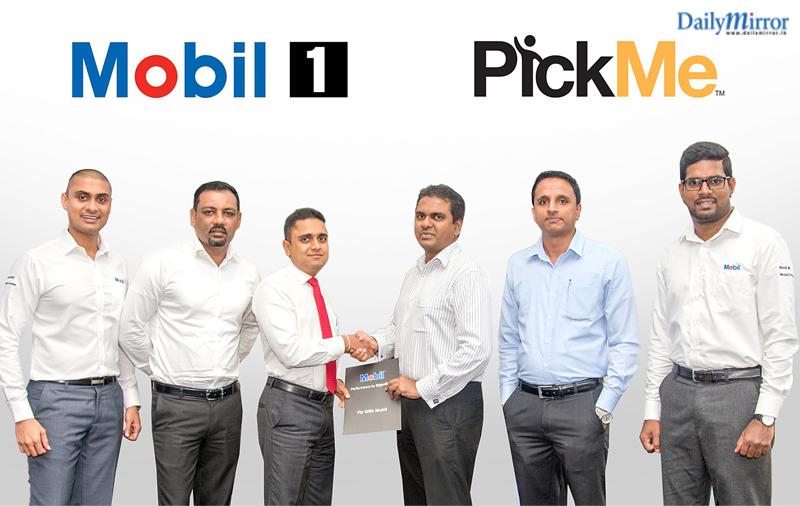 Dilan Seneviratne- Head of Marketing of Mobil, Chaminda Gunaratne- Director of Mobil, Tharindu Atapattu - CEO of Mobil, Isira Perera - Chief Operating Officer of PickMe, Dhanushka Ranasinghe - Vice President Strategic Partnerships of PickMe & Chatura Kathhriarachchi - Manager Marketing of Mobil.
In line with the Company's endeavours to enhance and deliver more value to its driver partners, PickMe, Sri Lanka's own technology driven digital mobility solutions provider announced a partnership with McLarens Lubricants Limited (Mobil). The partnership enables PickMe's driver partners to obtain exclusive discounts on all automobile lubricants of Mobil. Moreover, Automiraj and Hybrid Hub too will offer exclusive discounts to PickMe's driver partners on service cost.
"Our driver partners play a pivotal role on our platform. Hence, we consistently try to nurture our alliance with them by offering them various value added services and benefits to uplift their lifestyles. Our recent partnership with Mobil is a way of allowing our driver partners to reduce costs associated with rides and increase their income," commented Isira Perera - Chief Operating Office of PickMe.
PickMe's driver partner loyalty programmes include, 'PickMe Pramuka', an Insurance scheme for their entire family based on their driver rating system. In addition, the Company has been supporting academic pursuits of the driver partners' children through the PickMe Nena Pahana Program.
Mobil is renowned for its high quality range of automotive, marine, industrial, aviation lubricants and chemical products. The Company is the authorized distributorship of the largest publicly traded international oil and gas company, ExxonMobil. Meanwhile Auto Miraj and Hybrid Hub are two of the leading automobile service providers in the country. ''
At McLarens Lubricants, we are driven by passion to give Sri Lankan motorists access to world-class automobile products and technology. Our organization is sensitive to the needs of the Sri Lankan consumer who, like the rest of the world, is moving towards tech-driven digital solutions to meet their mobility related needs. We believe this partnership with PickMe will keep their fleet of vehicles running smoothly, and fuel them to continuously upgrade the transportation industry' said Dilan Seneviratne, Head of Marketing – McLarens Lubricants Limited.