---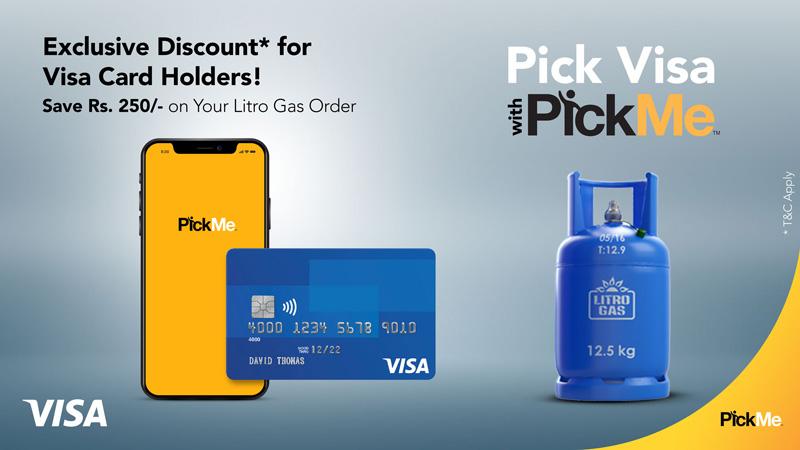 Sri Lanka's market leader in LP Gas, Litro Gas Lanka Limited, has partnered with popular ride-share platform PickMe to offer Rs.250 off per every cylinder or refill purchased via the PickMe app. The limited period offer will be valid from August 8 to September 21.
The offer is available for all Visa cards issued in Sri Lanka (Debit, Credit & prepaid cards) and the discount will be deducted automatically at the point of purchase without having to use a promo code.
Commenting on the promotion, Chairman & CEO of Litro Gas Lanka Limited Anil Koswatta said: "We are glad to be offering a small relief to our loyal consumers during this turbulent time. Also, we hope this serves to incentivize customers to embrace the digital, the same way Litro has.
"The delivery service for Litro Gas was launched in partnership with PickMe during the CoVid-19 outbreak; the service quickly became highly sought after in Colombo and suburbs – with this promotion, we hope the more customers in outstation locations will be encouraged to try the service which is highly reliable & convenient. We have managed to cover most of Sri Lanka but our goal is to make sure nobody is left out once the service is fully rolled out. So far the feedback from customers has been overwhelmingly positive. We look forward to forging meaningful partnerships in the next quarter too, as we have done with PickMe & Lanka Sathosa so far this year, to secure our number 1 position through improved accessibility," he added.
Making use of PickMe's infrastructure and resources, Litro delivers to any part of the country within an hour or less. Litro Gas was the first supplier & distributor of LPG in Sri Lanka to proactively invest in and adapt technological solutions to offer customers optimum convenience rising to the occasion when island-wide curfew was imposed to mitigate CoVid-19.