---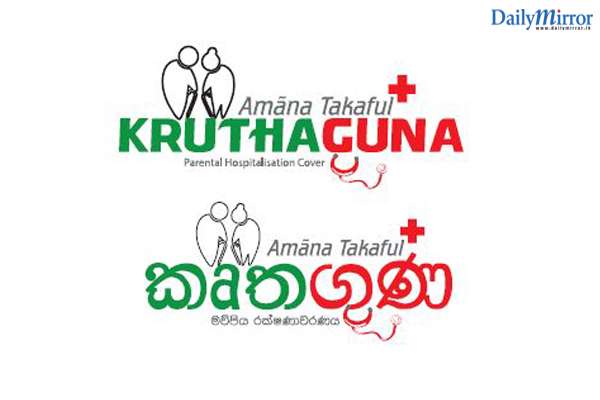 The start of a new year is a time most opportune to demonstrate appreciation to our elders who have guided and supported us in our formative years. The greatest way to show gratitude would be to reciprocate the care and nurture they provided us.
Care is essential and looked forward to at old age, and while it may not be possible for their children to be physically present, it is possible to provide them with the equivalent care by obtaining a "Kruthaguna" cover from Amana Takaful PLC (ATL), the only cover for those over 55.
ATL's pioneering hospitalisation policy, especially designed for individuals over 55 years, has taken this sentiment to the next level. Meaning 'Gratitude', KruthaGuna provides you with financial security and much needed support in times of need, providing you peace of mind to spend time, love and take care of your elderly loved ones in a way they truly deserve.
With ATL's Kruthaguna, finding an insurance cover for your elderly loved ones is no longer a source of concern, as we understand that pre-existing ailments such as Pressure, Diabetes etc. have always been a challenge in opting for an insurance cover. For the first time in Sri Lanka, ATL has come forward to waive-off pre-existing ailments from the 2nd year onwards.
"KruthaGuna" offers many other amazing benefits that cover, from hospital charges, ambulance services and wheel chair grants to name a few. Additionally, it even covers expenses for purchase of medicines, residential nursing services for elders who are brought home after hospitalisation and for medical tests required even after hospitalisation, a true consolation for both children and parents. The product offers three schemes to choose from which is available to all Sri Lankans over the age of 55 to 73 years.
The policy also enables those living overseas to provide for medical assistance for their loved ones back home, taking away the burden of not knowing how exactly they can care for them when most needed. For an annual premium as low as Rs. 15,000, you could obtain a Rs. 100,000 cover, with the upper limit being a Rs. 300,000 cover for Rs. 45,000. Once you subscribe to the policy, it is possible to renew the policy annually until death. Secondly, this includes an in-patient treatment cover, where the policy holder could receive treatment when hospitalized.
Realizing the need to offer convenience and comfort for policy holders, ATL has made arrangements for policyholders to pay the premium online logging on to its website, apart from paying at any of the 37 its branches situated island-wide, customers have merely to contact the 24 hour hotline to initiate this cover.
Sri Lanka has a rapidly greying population, with a quarter of its population expected to be elderly by 2041, which makes insurance covers such as this extremely critical as it is the only product to offer a medical insurance cover for senior citizens up to 73 years of age. Many children live away from their aged parents due to employment compulsions or migration to other countries for improving their career prospects. Now KruthaGuna makes it easy for them to remain close and responsible for their parents' care despite being far away. Throughout its two decades of excellence, ATL has been able to add value, in a unique way, to corporations and individuals alike, as a leading and trusted insurer.
Advanced in years, physically weak and financially dependent on their families, ATL's KruthaGuna gives them dignity and the confidence to live their best life despite their age.
ATL continuously reaches out to customers from all segments of society and offers innovative and state-of-the-art insurance products that are convenient, affordable and reliable. As part of its commitment to remain 'Open to all', ATL reaches out to all communities through a multi-ethnic team across its network.
For more information please visit, www.takaful.lk or contact the ATL team on 0117501000.