---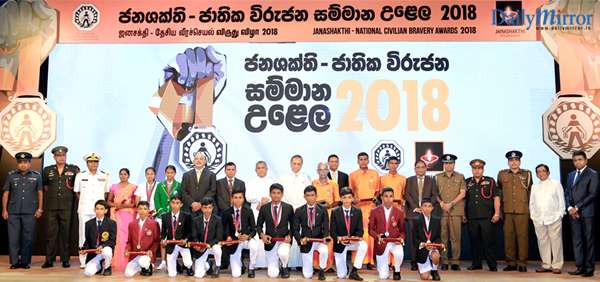 The award winners with Speaker of the Parliament of Sri Lanka, Hon. Deshabandu Karu Jayasuriya, M.P. and other dignitaries at the 'Janashakthi – National Civilian Bravery Awards 2018'
16 valorous Sri Lankanswere recognized for their selfless acts of bravery at the 'Janashakthi – National Civilian Bravery Awards 2018'held at the BMICH, recently.
Janashakthi Insurance PLCjoined hands with the Foundation for Civilian Bravery for the third consecutive year to present the 24th edition of the awards that seek to honour and celebrate brave Sri Lankans who risk their lives to saveothers from peril.
Speaker of the Parliament of Sri Lanka, Hon. Deshabandu KaruJayasuriya, M.P., graced the evening as the chief guest of the event. Also in attendance were awardees and their families, distinguished officials, renowned personalities from the entertainment industry and members of the media.
Late H. M. Keerthi Bandara Padmasiri, who sacrificed his life to save 22 passengers of the bus he was driving, after the brakes ceased to function, was posthumously awarded this year's Budal Na National Civilian Bravery Gold Award. Budal Na National Civilian Bravery Silver Awardswere given to Sachintha Lakshan and Tharindu Weerasinghe, both 17 years old, for risking their lives to save four people from drowning at sea, and to 78 year old Rubasinghe Pathirana Saundiris for saving the life of a fellow villager from drowning in flood waters.
The White Swan Silver Medal for Student Civilian Bravery Social Activity Award was awarded to nine students from Gamini Central College and Nambapana Kanishta Vidyalaya in Ingiriya, and Vidyarathana University College in Horana. The nine students, viz.H.B.Chamod Rathnayake, G. Shakila Dilshan Hasaranga, W.A.D.Sanjana, Dilshan, M.H.Yasiru Randula, P.A.Madusha Lakshan, Y.M.Buddima Sathira Sampath, B.A.Udaya Kumara, U.A.Dasun Tharaka, and K.Susara Vimukthi engaged in lifesaving activities together with the Ingiriya and Horana police during the floods experienced in the area in May 2017.
11 year old Udara Sandaruwan from Thalathuoya, who planted and cared for 250 plants in 2016 and over 500 plants in 2017, also won the White Swan Silver Medal for Student Civilian Bravery Social Activity Award. Shenaya Perera and Nayanthara Perera, sisters from St. Bridget's Convent, received the White Swan Gold Medal for Student Civilian Bravery Social Activity Award for Photo cause, their charity project for cancer and cancer awareness.
All awardees were carefully chosen following a selection process that entailed the assessment of supporting evidence, as well as face to face interviews, conducted by a distinguished panel of judges.
Having identified the importance of inculcating and promoting selflessness as a value in the community, Janashakthi extended its support towards this worthy national cause for the third consecutive year, bringing to light acts of bravery committed by the unsung heroes of Sri Lanka.
"As an Insurance provider, it is inherent in our business to protect others.However, we believe it is also important to recognize those people that go out of their way to save a stranger. These unsung heroes amongst us represent the best of Sri Lanka and the best of humanity. Hence, these awards are a shining example to all of what a difference an individual can make on the lives of people in their community and on society as a whole. Therefore, we see these awards as a worthy national cause that resonates with our own vision and values. We thank all our award winners for stepping up when society needed them most,"said Jude Fernando - Director / Chief Executive Officer, Janashakthi Insurance PLC.
The Foundation for Civilian Bravery is a non-profit organization, established by Act No 4 of 2009, dedicated to honouring civilians who voluntarily risk their lives saving or attempting to save the lives of others. Established in 1993, the Foundation bestows medals of bravery annually at ceremonies in Colombo.
Founded in 1994 as a Life Insurance company, Janashakthi Insurance PLC made its mark in the industry as an innovator and household name over a span of over 23 years. Janashakthi has a strong presence across the island, with an expanding Life Insurance network and a dedicated call centre. In line with its vision of lighting the lamp of insurance in every home and workplace, Janashakthi remains committed to becoming a leader in the Life Insurance industry by delivering a service beyond Insurance to its customers and stakeholders.