---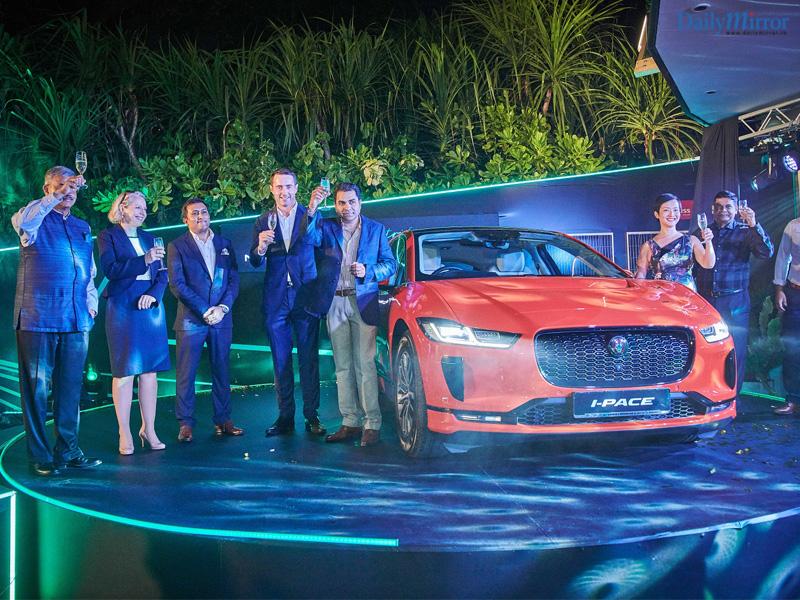 (L to R): Image of Arun Pathak – Managing Director, WelcomHotels Lanka Pvt. Ltd, Madam Excellency Sarah Hulton – British High Commissioner to Sri Lanka, Abhinav Pincha - Head - Sales & Marketing, WelcomHotels Lanka Pvt. Ltd, Robin Colgan - Managing Director, Jaguar Land Rover Asia Pacific, Subi George – Vice President, WelcomHotels Lanka Pvt. Ltd, Adeline Chia - Regional Performance Manager, Jaguar Land Rover Asia Pacific, Theo Fernando - Managing Director, SML Frontier Automotive and Dharshana Munasinghe, Director, SML Frontier Automotive making a toast to newly launched Jaguar I-PACE
SML Frontier Automotive, a member of the Access Group and sole agent for Jaguar in Sri Lanka, launched its first New All-Electric I-PACE ceremoniously at a high-profile event to herald a new era and revolutionise the eco-friendly vehicles industry in the country. The launch ceremony was held at the Sapphire Residence Experience Center, which also reflects a new sustainability ethos in Sri Lanka's luxury real estate industry, with Sapphire Residences already achieving the prestigious and globally respected pre-certification rating for LEED® BD+C (Core and Shell Development) at the highest Platinum level.
The I-PACE was launched by Her Excellency, Sarah Hulton, British High Commissioner to Sri Lanka; Robin Colgan - Managing Director, Jaguar Land Rover Asia Pacific; Adeline Chia, Regional Manager, Jaguar Land Rover Asia Pacific; Theo Fernando - Managing Director, SML Frontier Automotive; Dharshana Munasinghe, Director, SML Frontier Automotive and Arun Pathak, Managing Director, WelcomHotels Lanka Pvt. Ltd. Along with the spectacular launch a highlight of the evening was the ceremonial handing over of the first I-PACE to hit the roads in Sri Lanka.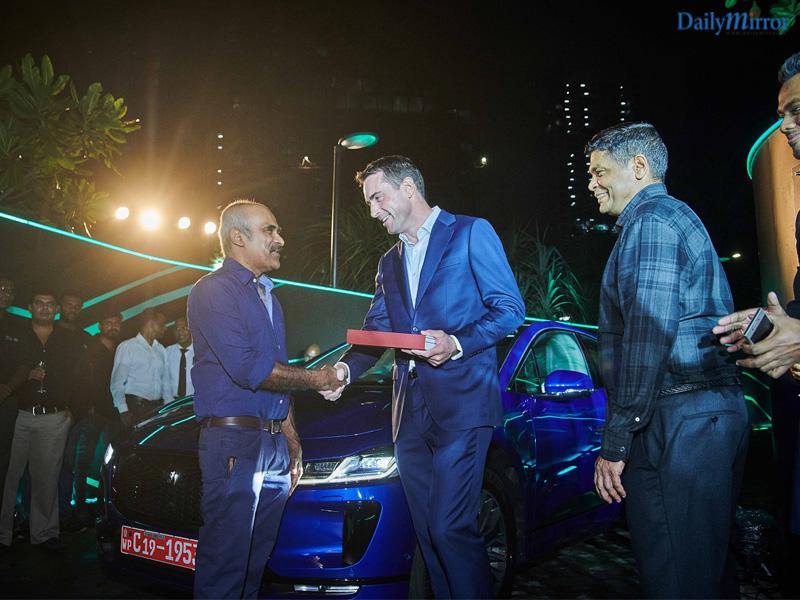 Dr. Sunil Fernando and Robin Colgan - Managing Director of Jaguar Land Rover Asia Pacific
The I-PACE is capable of rapid charging from zero to 80 per cent in just 40 minutes* and has been rigorously tested across extremes of terrain and temperatures from -40°C to 40°C. With over 1.5 million test miles and a further 11,000 hours of simulations completed by more than 200 production prototypes, Jaguar's design and engineering teams have created a world-class all-electric SUV. The Jaguar I-PACE has become one of the most highly decorated cars ever, winning 62 international awards along with the European Car of the Year award. In April 2019, the I-PACE became the 2019 World Car of the Year, also winning Best Design and Best Green Car awards, the first car to ever sweep three categories.

Commenting on the launch of the Jaguar I-PACE, Robin Colgan - Managing Director of Jaguar Land Rover Asia Pacific said, "We are delighted to launch the Jaguar I-PACE in partnership with ITC, a highly reputed sustainable company that reflects the environmentally-friendly qualities of the I-PACE. Jaguar is a celebrated brand in Sri Lanka and we expect this emission-free, electric vehicle to appeal to premium customers that want to embrace new technology while improving their environmental footprint. Jaguar sees great potential in the Sri Lankan market and we expect to see a strong response to the new I-PACE."
The Managing Director of SML Frontier Automotive, Theo Fernando, further added, "Sri Lanka has been a forerunner in adopting sustainable practices and the launch of the premier electric SUV, Jaguar I-PACE, marks a new chapter in ensuring a greener Sri Lanka. This, alongside our recent partnership with the global Jaguar brand with our first co-branded Team Asia New Zealand car in the Formula E, E trophy Series flies the Sri Lankan flag across the globe while contributing towards the future of electric cars in Sri Lanka."
The New All-Electric I-PACE, the first all-electric car of Jaguar is an evolution of the art of performance, with refined sports precision and a stunning design. The Jaguar I-PACE is now available for customers to test drive and view at the Jaguar Land Rover showroom at No. 74, Flower Road, Colombo 07 or customers can call 0112552444