---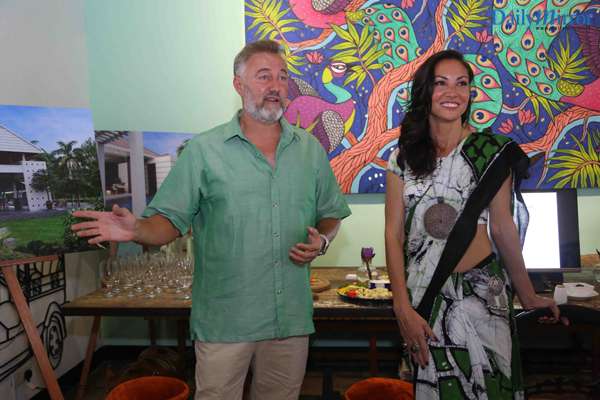 Dale Rennie – The Developer, The Plantation Luxury Villas with Sabrina Rennie –Creative Director, The Plantation Luxury Villas
With aspirations to invigorate and inspire luxury hospitality in the region, Sri Lanka-based The Plantation Luxury Villas announced the launch of its newest development of luxury villas, at an event held at The Heritage Café in Galle on Thursday, 13 December.
Following an introduction and in-depth presentation of the visually and conceptually stunning project, members of the press, investors, and guests were invited to 'Meet the Developer, Architect, and Creative Director' to further familiarise themselves with what is certain to be a luxury development in a league of its own.
Brought to you by the founders of The Heritage Café and Bistro (recently listed in Conde Nast magazine's 'How to visit Sri Lanka in 3 Days') at the UNESCO listed Galle Fort, this new venture is a smooth transition for power-duo Dale Rennie and Sabrina Van Cleef Ault. The Plantation Villas development is the latest in the couple's portfolio of successful opulent developments across the world.
Following a 26-year career in the entertainment industry -having produced live concerts the world over for big name personalities Michael Jackson, Bryan Adams, Bon Jovi, Julio Iglesias, David Copperfield, Warner Bros. on Ice, and productions such as The Bolshoi Ballet, and Marie Osmond starring in The Sound of Music, among others- Dale has since turned his experience into developing some spectacular luxury projects, namely the award-winningultra-luxury cliff-front property, Villa Anugrah, in Bali, Indonesia.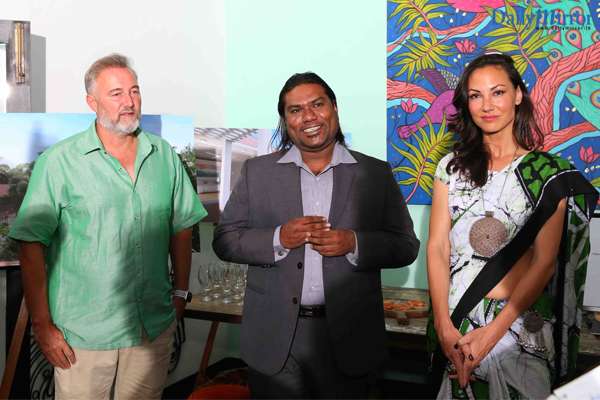 Dale Rennie – The Developer, Manjula Kalhara – The Architect and Sabrina Rennie - Creative Director, The Plantation Luxury Villas
Dale's wife and business partner, and the creative mind behind The Heritage Café and Bistro -and now The Plantation Luxury Villas-, also represents an illustrious 15-year career in the F&B and entertainment industry. As the original co-founder and Creative Director for the world famous and highest earning uber luxury nightclub brand Pangaea, Sabrina's experience spans over six continents.
Adding that organic flare to the property's construction, are the designs of celebrated Sri Lankan architect ManjulaKalhara.Not one to shy away from implementing the unusual, Manjula isknown for his strong environmental ethos, and matchless experience in resort-building.
Tucked away in a secluded area a few hundred meters from Koggala Lake in Sri Lanka's stunning south, lies the site for the Plantation Luxury Villa development. Offering 14 exclusive one- and two-bedroompool residences, sized from 1204sqm – 2650sqm, the resort is a tropical sanctuary aiming to be the island's most captivating five-star resort hideaway, offering contemporary modern living in a location second to none in the region.
These stunning, tropically landscaped escapes provide complete privacy and luxury in every detail, with elegantly furnished living rooms, kitchenettes, deluxe bedrooms with spacious en-suite bathrooms and individual plunge pools. Outside, decks and large pool decks, are perfect for sunset relaxation or entertaining, affording panoramic hill-top views across the tranquil mountain, paddy and jungle settings.
Testament to the developer's commitment to comfort and detail, the rich interiors will exhibit the most comprehensive collection of premier furniture and luxury finishing, incorporating authenticity in a contemporary interpretation of Tropical Modernism in design. The Plantation pool villas will feature large living space enhanced by high vaulted ceilings, and floor-to-ceiling windows, revealing to-die-for expansive views.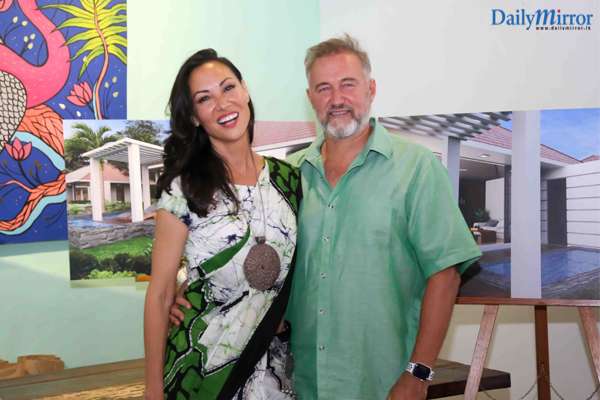 In addition to resplendence in individual living on the property, The Plantation Luxury villas boast a plethora of indulgent resort facilities, including a large clubhouse, stunning reception area, a 35-metre common pool, a meditation space and spa, as well as a 24-hour gymnasium. Exquisite culinary offeringsof mouth-watering gastronomical diversionswillalways be on the resort's menu, catered to suit the pangs of every palette.Additionally, on site round-the-clock on call private butlers as well as visiting spa experts, will enable residents and guests to tailor their own dining preferences and spa treatments if they wish a stay-at-home retreat in their private pool villa sanctuaries.
As with The Heritage Café and Bistro, Dale and Sabrina hope to ingrain their innate environmental consciousness into the Plantation Luxury Villas ethos as well. A founder of the globally recognised Paddle for The Planet Ocean Awareness Project -now in its 8th successful year running-, Dale has now brought his NPO to the shores of Sri Lanka. Together, they hope to raise awareness on the importance of a plastic free society through their eco-friendly developments.
"We are excited to be bringing our signature brand of luxury living and hospitality to a place we have now chosen to call home," said Dale Renniespeaking at the event. "Contrary to what has been predicted, Sri Lanka, with its promise of natural beauty and serenity, is still appealing to investors looking for that ideal island get away."
It comes as no surprise then, that after brisk pre-sales over 50% of the property has already been snapped up by market savvy investors, and it was the eight remaining individually-designed one- and two-bedroom residences that were unveiled at the launch event in Galle.
The fully furnished and equipped Plantation Luxury Villas are scheduled for completion in January 2020 and may be purchased for either private usage or placed in the resorts rental program for guaranteed 7% per annum returns.
The duo behind The Plantation Luxury Villas are also currently adding the final touches to another ongoing project – aboutique hotelset to open late 2019in Galle Fort.