---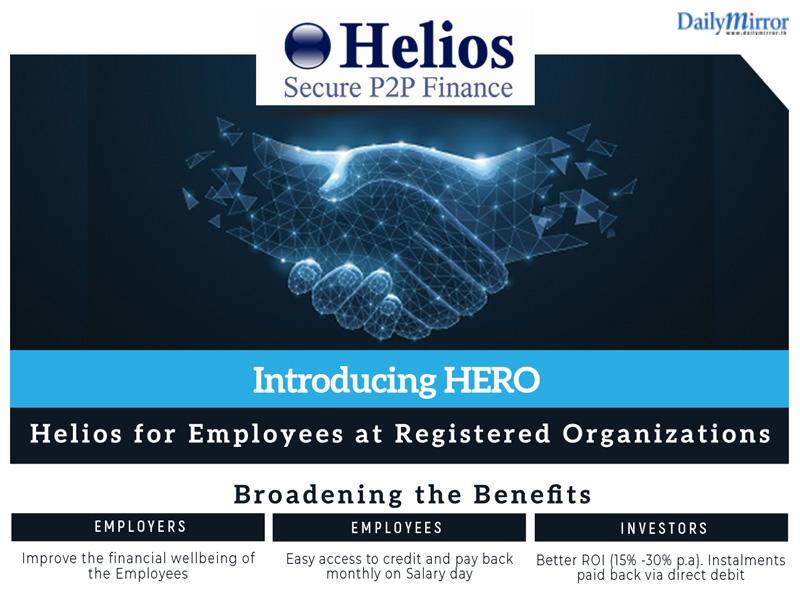 Helios P2P – Sri Lanka's First Peer-To-Peer Lending Platform launched in August 2018 after winning the 2017 John Keells X accelerator programme and have also been successful in securing the funding for the second stage of the accelerator in July 2019. Helios P2P is not a bank but instead, connects borrowers and investors on their online platform (heliosp2p.com). They have transformed the way people access credit and fills the void for both potential lenders and borrowers by bringing in the globally popular peer-to-peer lending experience to Sri Lankans.
The peer-to-peer lending industry, valued globally at $64 billion in 2015, is growing at a compound annual growth rate of approximately 50%. Its credentials have been established as an asset class which delivers predictable returns for investors shielding them from stock market volatility. The emergence of P2P platforms has opened up the consumer credit market which was earlier open to only institutional investors such as banks and non-banking financial institutions, allowing income-seeking investors to diversify their portfolio with an alternative investment strategy.
Helios P2P launched their latest product, HERO (Helios for Employees at Registered Organizations) in October 2019. This product aims to provide benefits for the Lenders, Employers and Borrowers while mitigating the risk for all stakeholders. One of Sri Lanka's largest listed conglomerates was the first corporate to facilitate HERO to its employees.
HERO is offered to Employers as a value addition to improve the financial wellbeing of their employees. The organizations can sign up with Helios P2P to offer both executive and non-executive employees quick, easy loans at improved interest rates (monthly interest of 1.25% - 2.5%), giving them access to credit in their time of need. There is no fee incurred by the organization for opening this up to its employees. This would enable employees to avail credit without any financial liability risk being borne by the employer.
HERO mitigates the risk for Lenders further as the instalments are deducted on the borrower's salary day directly from their bank account and credited to the lender's account. Sri Lankan citizens can sign up online and start lending with absolutely no fees to get an annual return of 15% - 30% per annum. The individual lenders can pick the borrowers based on their risk appetite and lend to them directly. This is an excellent opportunity for lenders to get better potential returns during a period where fixed deposits rates are at a low and capital markets are undergoing a downturn.
Employees can get their loan from their desk by applying online, with minimal documentation. Loan instalments are to be paid monthly on their salary day. This had made the application process simpler and easier. The borrower has to fill in the online application and submit the proof of employment documents online. Upon approval from a lender, the borrower has to set up the direct debit on the Helios P2P platform and then the lender can transfer the money to the account.
For those interested in signing up their organizations to the HERO product, please contact on email at [email protected] or reach out to Helios on 011 708 5044/ 077 695 9325.