---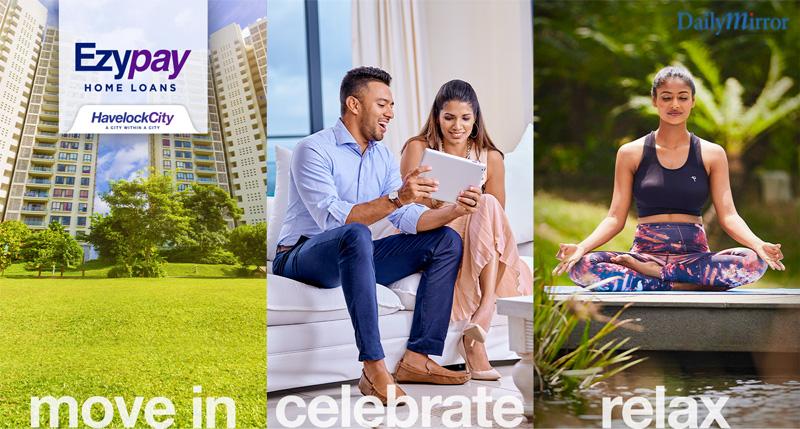 Havelock City, Sri Lanka's premier mixed-use development project, has announced a new flexible payment solution, Ezy Pay Home Loans, for those looking to purchase a luxury apartment in Phase 3 (move-in ready) and Phase 4 (set for completion in May 2021). Ezy Pay Home Loans allows buyers to pay just 20% of their total investment upfront and move into their brand-new apartment and defer further payments for up to one year. This grace period would allow for better cash management and more reasons to celebrate a brand-new home.
"We want our customers to feel at ease when they make the decision to purchase an apartment at Havelock City. Whether they seek to expand their property portfolio or wish to personally enjoy our unique 'city within a city' lifestyle, Ezy Pay Home Loans is the wisest, most convenient choice," said Pravir Samarasinghe, Group CEO of Havelock City.
With an Ezy Pay Home Loan, potential buyers would be able to enjoy:
•
Move-in ready apartments from LKR 35 million+
•
Pay 20% and move into your luxury apartment.
•
Attractive interest rates at 7%+
•
Your first year's interest paid by Havelock City.
•
Defer your loan re-payments by one year.
A number of banking partners, including Hatton National Bank PLC and DFCC Bank PLC, have signed on to accommodate Havelock City's Ezy Pay Home Loans.
Havelock City is built on 18 acres of prime land at the heart of Colombo, consisting of both residential and commercial components. It offers its residents a range of facilities at the largest clubhouse of its kind, and an exclusive 7-acre landscape garden. The COC-certified Stratford and Melford Towers of Phase 3 have a limited number of move-in ready apartments available, and the Peterson and Edmonton Towers of Phase 4 will also soon be ready for occupation.
The 50-storey office building within Havelock City, Mireka Tower, offering distinctive workspaces, adds more value to the property, as does the upcoming Havelock City Shopping Mall, soon to provide premium F&B and entertainment experiences from both local and international brands.
To arrange an experiential visit to the show apartments, or to find out more about purchasing a unit with a Havelock City Ezy Pay Home Loan, call +94 772 505 100.