---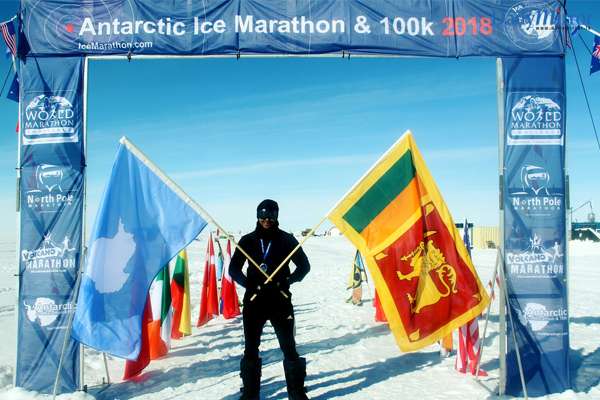 Adventure marathoner Hassan Esufally goes down in history books as the first Sri Lankan in history to run a marathon on all of the seven continents by completing the arduous the Antarctic Ice Marathon with a time of 8 hours 35 minutes. The champion marathoner endured the 42.2 km marathon event under tough conditions with falling snow and poor visibility which required a superhuman effort. Previous multiple-times winner of both the Antarctic Ice Marathon and 100 km events who participated in the event were quoted as saying that this was one of the toughest years in the competition. Due to the weather forecast and conditions on race day, the 10-hour time limit imposed had been taken off for all the competitors.
This is the only official marathon run on mainland Antarctica, taking place at 80° South, just a few hundred miles from the South Pole in the interior of Antarctica. Having successfully completed the marathon, Hassan is now relaxing and enjoying his feeling of triumph. He underwent grueling training sessions to prepare for the event.
Commenting on his latest milestone, Hassan said, "It is an amazing feeling to complete the Antarctic Ice Marathon within a reasonable timing as it is the one of the toughest marathons in the world! During the race, I had to maintain a tough mental outlook as visibility was almost zero and heavy snow was falling through the race. Luckily, my previous experience in marathon running coupled with rigorous physical preparation helped me complete the race successfully. I feel blessed to be one of a handful of marathoners to have completed the Antarctic marathon."
However, Hassan is not wont to rest on his laurels and will undoubtedly challenge himself with yet another ambitious goal in the future. Before the Antarctic Ice Marathon he was also the first Sri Lankan in history to complete the world's hardest marathon, the Inca Trail Marathon. For the other five continents, he has completed marathons in Europe (Stockholm Marathon in June 2017), Asia (Colombo Marathon in October 2017), Australia (Melbourne Marathon in 2014 and 2016) and this year he has completed the Boston Marathon in USA (April) and the Big Five Marathon in South Africa (June) – putting Sri Lanka on the marathon map.