---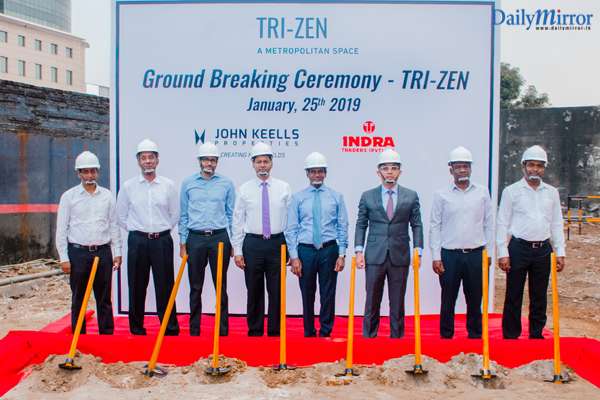 Nayana Mawilmada - Head of Sector at John Keells Properties, Suresh Rajendra - President of the Property Sector, John Keells Holdings PLC, Gihan Cooray - Deputy Chairman and the Group Finance Director of John Keells Holdings PLC, Rushanka Silva - Managing Director of Indra Traders (Pvt) Ltd, Indra Silva - Chairman of Indra Traders (Pvt) Ltd, Jia Ruihua - Deputy General Manager of CSCEC, Inoke Perera - Chief Operating Officer at John Keells Properties and Lumbini Pathirage - Head of Engineering at John Keells Properties
John Keells Properties celebrated the beginning of construction for their newest development, TRI-ZEN, during a special groundbreaking ceremony on 25 January 2019, held at the site located at Union Place, with additional access from Braybrooke Place.
The groundbreaking ceremony was held in the presence of the Deputy Chairman and the Group Finance Director of John Keells Holdings PLC Gihan Cooray, President of John Keells Property Sector Suresh Rajendra, Sector Head- John Keells Properties Nayana Mawilmada, Joint Venture partners Chairman of Indra Traders (Pvt) Ltd. Mr. Indra Silva, and Managing Director-Indra Traders (Pvt) Ltd Rushanka Silva, alongside officials from construction partners China State Engineering.
Projected for completion in 2023, this development is one of the most anticipated metropolitan projects in the country since its announcement in 2018. Positioned at the heart of Colombo, TRI-ZEN offers better convenience and value for the modern city-dweller and stays true to the developer's signature brand of smart-living, convenience, and comfort, taking the concept of urban living to the next level.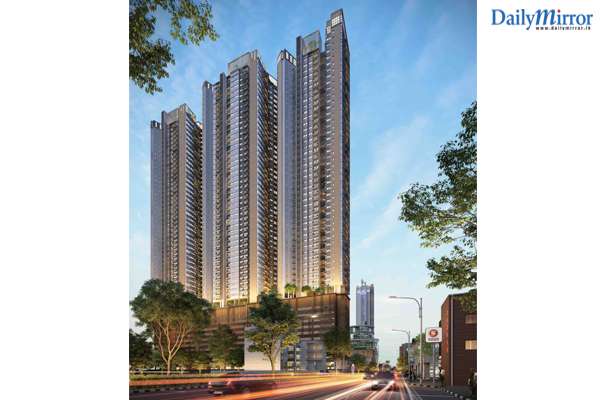 TRI-ZEN's 891 stylish yet affordably priced apartments will incorporate smart design principles to maximize space and comfort
Available in one, two, and three-bedroomed units, the apartments are priced at an affordable Rs. 23 million upwards. Considering the current economic climate, the project has been priced in Sri Lankan rupees, raising the bar for investor confidence.
At the ceremony, Nayana Mawilmada Head of Sector at John Keells Properties re-instated the thinking behind launching this development. "This is an extremely good time for both local and foreign investors to invest in the property market in Sri Lanka. Potential investors for TRI-ZEN can rest easy with the assurance that the development will not be subject to forex rate-based price variations. This was a strategic decision on our part to overcome volatility in international currency markets and deliver value to our customers."
It comes as no surprise then, that the 53-storey complex featuring 891 'smart' apartment homes is selling fast. With the knowledge that a luxury property in a prime location holds a value that rarely decreases, TRI-ZEN is growing in popularity among buyers.
"This is our first venture into a major property development, and we are excited that construction is now underway on this very ambitious project," said Chairman of Indra Traders (Pvt) Ltd. Mr. Indra Silva "With John Keells Properties as our joint venture partner, and China State Construction Engineering Corporation as the contractor, TRI-ZEN will most certainly prove to be an exceptional success, and an excellent investment for those looking for comfort and convenience in the city."
To make the city more accessible for a wider spectrum of people -especially young executives- many leading financial institutions have partnered with John Keells Properties to facilitate and support the aspiring younger generation with attractive financial packages specifically tailored for TRI-ZEN, supporting customers in their investment and enabling them to acquire a living space in the heart of the city. Interested buyers may view a show apartment at Vauxhall Street by contacting +94 702 294294 or www.trizen.lk for more information.
The latest addition to the repertoire of landmark residential properties in Colombo by John Keells Properties, TRI-ZEN follows The Monarch, The Emperor at Crescat City, OnThree20 at Union Place, and 7th Sense on Gregory's Road. Cinnamon Life, John Keells Group's flagship mixed development project is also currently in progress, set to transform Colombo's cityscape on the border of Beira Lake.