---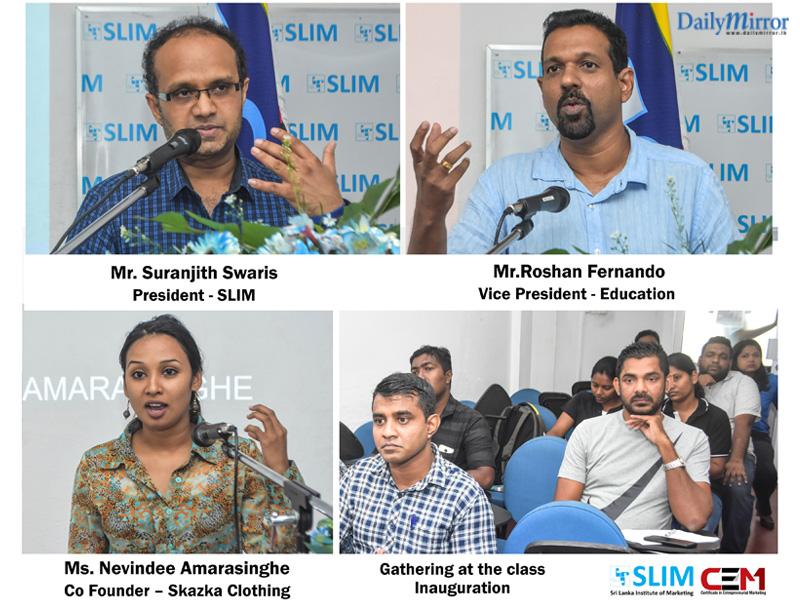 The Sri Lanka Institute of Marketing (SLIM) held the Inauguration Ceremony of the Certificate in Entrepreneurial Marketing at the SLIM Business School in Colombo. Suranjith Swaris, the President of SLIM, Roshan Fernando, the Vice President-Education of SLIM, and Sanath Senanayake, CEO/ED of SLIM graced the occasion along with other distinguished guests. The event featured Nevindee Amarasinghe, an entrepreneur, who boasts a wealth of experience in marketing, public relations and event management as the guest speaker. The gathering comprised of Entrepreneurs and aspiring entrepreneurs who are employed as executives, middle-level managers and school leavers.
The Certificate in Entrepreneurial Marketing (CEM) is a five-months long programme, which is dedicated to create a path for budding entrepreneurs to understand the right way of carrying out innovative businesses and to enable them to achieve their vision. This specialized programme provides a thorough understanding about marketing essentials in order to devise creative and futuristic marketing strategies to compete with existing cash-rich ventures. Moreover, with the holistic knowledge provided through the course, the entrepreneurs are empowered to raise their bar in the market place and make great strides in terms of growth and development. Each module of the course contains theoretical concepts focusing on professional practices coupled with project based learning opportunities on entrepreneurial marketing management.
Addressing the gathering, Suranjith Swaris, the President of SLIM said, "Based on a comprehensive research conducted last year, SLIM identified a significant number of Sri Lankan entrepreneurs who failed in their enterprises as a result of a dearth in proper marketing knowledge. They have had the courage to start up their own businesses but couldn't sustain the enterprises due to poor understanding of marketing strategy. Thus the program was launched by SLIM to boost sustainability and enhance the necessary knowledge and skills needed to conquer the business world. I am sure throughout this course, we would be able to build many successful entrepreneurs in Sri Lanka."
The keynote speaker Nevindee Amarasinghe, who co-founded SAKZA, a bed linen company, enlightened the audience with valuable insights, highlighting various aspects vital to entrepreneurs when it comes to overcoming challenges during the initial stage of her own business. She also shed light on the importance of building confidence to succeed as a young entrepreneur. Also, she recommended CEM as a good educational qualification to improve entrepreneurial marketing skills and knowledge.
Commenting about the CEM, Roshan Fernando, Vice President of SLIM said, "The CEM is the newest addition to our product portfolio. We initiated this programme in order to address the emerging need to promote marketing among the upcoming entrepreneurs in Sri Lanka as well as to promote entrepreneurship in the country. This programme is tailor-made to ignite the potential of entrepreneurs and groom them.
The CEO/Executive Director of SLIM, Sanath Senanayake highlighted the fact that, "Through this program SLIM is proud to be able to mould a breed of much needed educated and sensible individuals to the market where entrepreneurship is currently recognized and awarded as one of the upcoming trends in the modern world. The curriculum, learning environment, lecturer panel and the assignments are well structured to achieve these objectives."
More details of the programme can be obtained through Dinuk on 0711 495 116 or log on to www.slim.lk/cem