---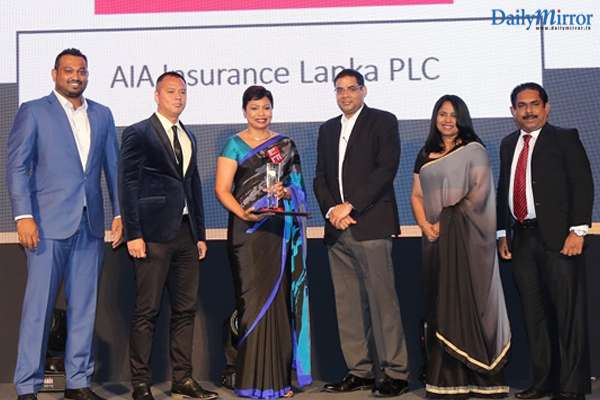 AIA Insurance is proud to have been recognised as a Great Place to Work® in Sri Lanka for the sixth consecutive year. This achievement comes on the heels of being inducted into the GPW® Hall of Fame last year, having been recognized for five successive years.
This year too AIA was adjudged one of Sri Lanka's Best 25 Companies to work for, in addition to the Bronze Award in the Large Enterprise category. The highlight for AIA most definitely was winning the title of 'Best Workplace for Women' in Sri Lanka, which came as a welcome reaffirmation that everything the company does for gender parity has been recognised and appreciated.
Director HR Thushari Perera commending all at AIA for winning these awards noted "AIA is about being pre-eminent and constantly raising the bar. It is about empowering its people and creating the most conducive work environment, so everyone can be the best they can be".
Thushari added "We have a very special culture here at AIA. It is a bond between people that surpasses the business of the organization and is prevalent across all functions, across all employees regardless of position or designation. I believe it's what keeps us together, moving towards one common goal and we value the feedback we receive from surveys such as GPW® and we use the indicators to constantly raise the benchmark in our employee satisfaction."
Chathuri Munaweera, Director & Chief Officer Legal, Governance, External Relations commenting on AIA being recognized as the "Best Workplace for Women" said "Gender parity is central in having a dynamic balanced workforce. Female employees and female Wealth Planners play an integral part in our business success. AIA recognised early, the narrowing trends of female participation at work and took many sustainable steps over the years to ensure that our female colleagues have a work environment that provides leverage and flexibility to arrange work within family circumstances, at times of life where such support is needed most. It is not just about fixing the basics and having the best of support for our employees during key stages of motherhood, but also ensuring that there is room to grow in careers whether in sales or in support functions.
Chathuri proudly stated "On the sales front, we have female Wealth Planners and Financial Planners who have achieved international acclaim. Across the Company, most of our key functions have a strong first or second line female succession including our Executive Committee which has two female leaders. Our female employees have increased by 8% over the last two years to make up 35% of our workforce".
Chathuri and Thushari congratulated all at AIA for the spirit of company before self, adding that "the consecutive awards alongside the growth and performance of the company shows that we continue to get the balance right. It's safe to say that our consistent recognition at the GPW® awards is testament to the company's commitment to doing the right thing, the right way and most importantly, with the right people."