---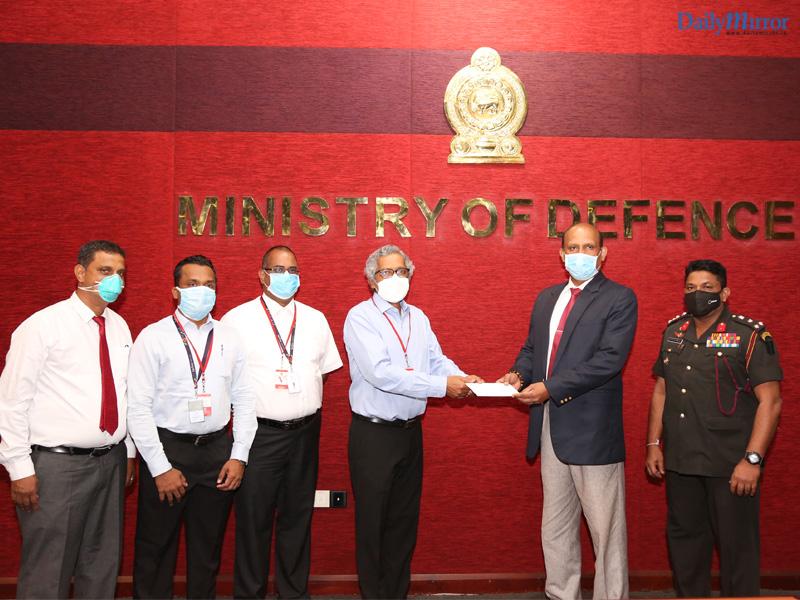 From right: Major General (Retd) Kamal Gunaratne receiving a cheque of LKR 10 million for the 'Fight for Covid-19 fund' from Dr. Sanjeev Jha, MD & CEO, Fairfirst Insurance.
Others from right are: Brigadier Nishantha Manage, Mr. Dhilan Mitchell &
Mr. Sanjay Siriwardena of Fairfirst Insurance and Mr. Kanishka De Silva, President of Harimaga.
Fairfirst Insurance's Managing Director & CEO, Dr. Sanjeev Jha and company representatives met with Major General (Retd) Kamal Gunaratne. At this meeting, Dr. Sanjeev Jha conveyed gratitude for the immense commitment and dedication of the frontline forces towards fighting this pandemic. In this regard, Fairfirst volunteered the provision of coveralls and face masks for the safety of the healthcare staff and forces. In addition, a cheque of LKR 10 million was handed over as donation from the company and employees to the 'Fight for Covid-19 Fund'.

Fairfirst Insurance along with the employees has earmarked this fund which will be deployed to help in instilling measures to mitigate the outbreak of the threat.

At this occasion Dr Sanjeev Jha mentioned, "It is times like these when each one of us has a responsibility. Business is noble when we use our forces for such needs. At Fairfirst, we have always believed in protecting and supporting the wellbeing of the community. We are confident together, and with empathy for each other, we will overcome this shared threat."

Fairfirst Insurance Limited, is part of the global Fairfax Group. The Group is a leading property and casualty insurer, reinsurer and investment manager, headquartered in Toronto, Canada. Fairfirst, is today among the top general insurance companies of Sri Lanka. Fairfirst serves individuals, businesses and institutions across this beautiful island through a versatile workforce spread across comprehensive branch network, affinity partners and brokers in Sri Lanka.