---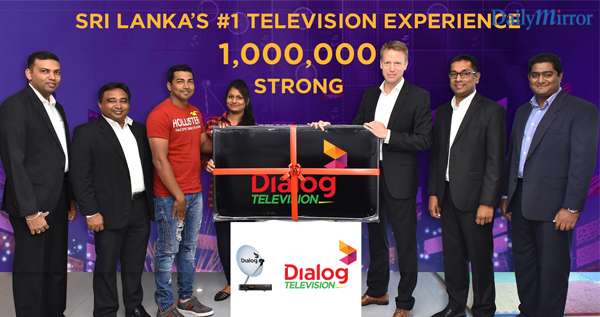 Dialog Television rewards the millionth customer Mr. Kasun Madushanka and Ms. Lakeesha Premachandra with a rental free Dialog Television subscription and a 49inch LED TV.
(L-R) Pubudu Aluthgedara, Chief Manager - Product and Subscriber Management, Television Services, Dialog Axiata PLC, Zuhair A.M. Zihar, Head - Content Acquisition and Channel Management, Dialog Axiata PLC, Rainer Deutschmann, Group Chief Operating Officer, Dialog Axiata PLC, Chirantha De Zoysa, General Manager/Head of Business - Television Services, Dialog Axiata PLC and Bandara Attanayaka, General Manager – Dialog Television Engineering, Technology Strategy, Planning and Development, Dialog Axiata PLC.
Dialog Television, Sri Lanka's Premier Pay TV service provider in the country, announced the milestone of reaching 1 million Sri Lankan homes.
Dialog Television celebrates this achievement by rewarding all existing customers with access to all channels including HD channels, at no additional charge until 18th April, 2018. Additionally, package enrichment offers will be extended to customers, activating some of the best international channels in HD at no additional charge. The offers are not limited to adults, but children will have the opportunity to meet and greet some of their favourite Toon Stars at an event organised in collaboration with Cartoon Network on 21st and 22nd April, 2018. In addition, the millionth customer was rewarded with a rental free Dialog Television subscription, to enjoy the best of entertainment coupled with a 49inch LED TV.
Dialog Television was inaugurated in February 2007, and since then has revolutionised the pay-television sector in Sri Lanka, becoming the first operator to offer per day billing packages. These innovative 'pay-as-you-watch' packages opened premium content and satellite entertainment for every Sri Lankan, demonstrating the Company's commitment to inclusivity. In addition, Dialog Television has been recognised on multiple fronts for 'first time in Sri Lanka' titles, including first operator to introduce HD channels, first TV On the GO service (Dialog TVGO), first hybrid experience (ViU Hub), first Pay Per view (7th Circuit) channel that broadcasts along with cinema premier to homes across Sri Lanka based on a pay–per–view model. The latest innovation by Dialog Television was the launch of Sri Lanka's first online advertising portal, www.adhub.lk.
Commenting on this milestone Chirantha De Zoysa, Head of Business, Dialog Television said, "We strive to deliver best-in-class global and local content and entertainment to reach even remote locations island wide. We are humbled by this achievement, which demonstrates how Dialog has transformed the digital entertainment sphere in Sri Lanka. Not only homes but Dialog Television has helped to strengthen the hospitality and condominium sector as well by bringing a world of entertainment to over 10,000 rooms."
He added "Our vision is to provide the very best in local and global entertainment to all Sri Lankans in an inclusive manner, and together with our penchant for innovation, our efforts are strengthened by exclusive partnerships with some of the leading players in the regional and global broadcast business. We wish to thank our loyal viewers for their support, and look forward to innovative activations which will further empower and transform the entertainment landscape in Sri Lanka."
Supun Weerasinghe, Group Chief Executive, Dialog Axiata PLC, said, "As we celebrate over a decade of operations that revolutionised the pay-television sector in Sri Lanka, it is both humbling and inspiring to note how Dialog Television has transformed the entertainment experience for every Sri Lankan. We would like to thank our key business partners, the Telecommunication Regulatory Commission and the Ministry of Mass media and Communication for extending their continued support."
Dialog Television is also committed to enrich local sports by providing live coverage in partnership with Papare.com. Apart from all local channels, specialist channels such as Ada Derana 24x7, Channel C, Nenesa, Citi Hitz, Revision TV, HTV, A+ and Ridee TV are also offered free of charge to subscribers in the basic pack. Dialog Television content is offered in several languages ranging from Sinhala, Tamil, English, Hindi, Japanese and Korean.