---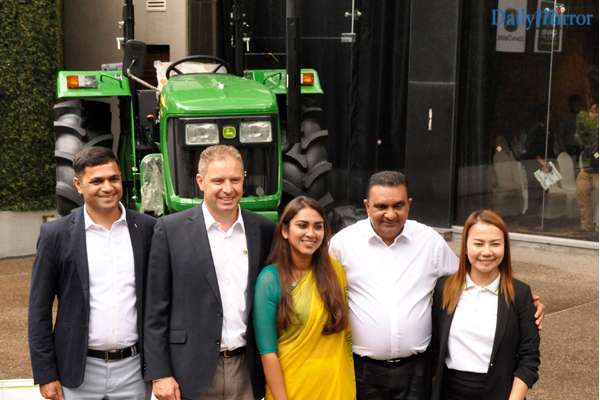 The internationally renowned John Deere range of farming equipment that has been one of the leading brands in Sri Lanka is to be further enhanced with the introduction of innovative technology. Dave Group, pioneers in the field of agricultural equipment,and representatives of John Deere in Sri Lanka since 1990, has plans to introduce new technology to farmers in Sri Lanka to increase productivity and enhance profitability.
John Deere which has a history of over 180 years with overthirty factories and offices around the world, has a wide range of agricultural products from 20 – 650 HP Tractors to Harvesting Equipment, Hay and Forage Equipment,Planting Equipment, Precision Ag Technology, Seeding Equipment and Sprayers & Applicators.
Speaking about the partnership, the Executive Director of Dave Group, Ms. Minelle Siriwardena commented, "Currently, the Dave Group markets agricultural equipment such as 2WD and 4WDtractors, implements, combine harvesters, front end loaders, sprayers and agricultural tools. We also have construction equipment such as excavators andmotor graders as well as forestry equipment such as log loaders and timber jacks. In Sri Lanka our staplefood is rice and since we cannot fulfill the demand, as a country we import rice from many parts of the world. However, if we do the farming in a scientific way we can easily be self-sufficient. Modern agriculture methodologies will help to improve productivity and provide a greater yield."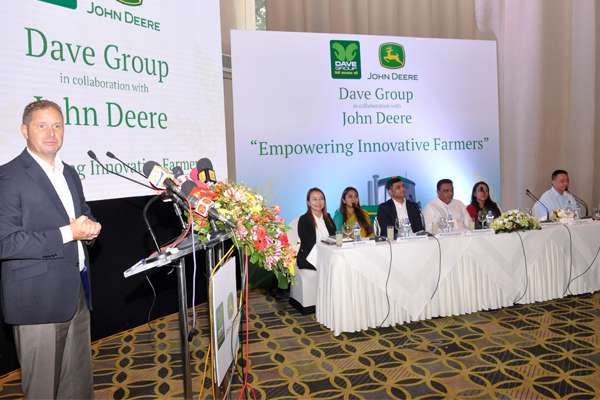 Explaining further, Ms.Siriwardena said, "The traditional farming methods such as ploughing using buffaloes is now on the wane and land isprepared using tractors. We at Dave Group plan to introduce innovations that would help farmers to prepare land faster and mechanize sowing, spraying and harvesting."
The effects of climate change have a major impact on rice production in Sri Lanka. It is believed that innovative mechanization will help farmers to adapt to these changes and make recovery faster. These innovations could be well within the reach of the farmers.
Ms.Siriwardena also spoke about the shortage of manpower in Sri Lanka. "This is an issue that needs to be addressed by all stakeholders in the agricultural industry. This is where innovative mechanization can play a vital role in increasing both productivity and profits of farmers.We will be encouraging more farmers to access the newer machinery with innovative technology."
The product range offered by the Dave Group is not limited to the agricultural industry. There is also golf and turf equipment such as mowers, as well as trailers, fully covered garbage tipping trailers, water bowsers and gully bowsers.
The Dave Group has an extensive range of John Deere equipment for the Sri Lankan market and the brand has won global recognition as the leading brand for agricultural machinery and equipment. This leadership in Sri Lanka has been possible through the partnership between John Deere and Dave Group over the past two decades.
"We have over 100 dealers Islandwide, and we provide an unbeatableafter-sales service. In the years to come we plan to strengthen our partnerships and help Sri Lankan farmers in their bid to reach self-sufficiency" concluded, Ms. Siriwardena.