---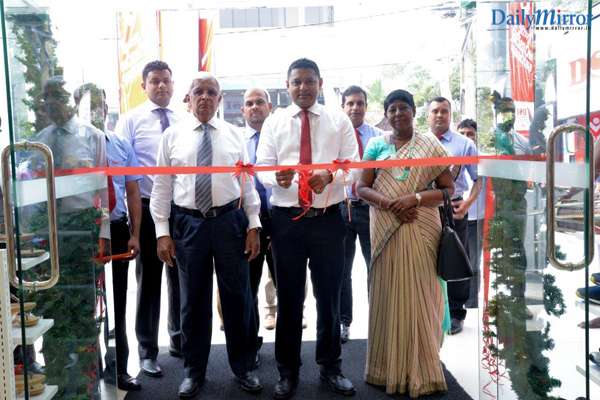 Opening of the Panadura showroom by Mr. Thusitha Rajapaksa – Managing Director, along with Deshamanya Nandadasa Rajapaksa – Emeritus Chairman and Mrs. Kaushalya Perera – Director of D. Samson & Sons (Pvt) Ltd.
Today's footwear industry boasts a number of brands that are well-known for their various useful qualities and high standards. However, in the recent years it has become clear that the local industry is plagued by duplicates and cheap imitations of products from recognized and renowned brands. One such brand – DSI Supersport has taken up the task of raising awareness about the duplicate epidemic and help consumers "Make the Right Choice".
In parallel to the opening of a new DSI Showroom in Panadura, DSI Supersport launched its seasonal campaign titled – "Make the Right Choice", recently. The campaign was ceremonially launched by Mr. Thusitha Rajapaksa, the Managing Director of D. Samson & Sons (Pvt) Ltd, while the Emeritus Chairman of D. Samson & Sons (Pvt) Ltd, DeshamanyaNandadasa Rajapaksa, the Director of D. Samson & Sons (Pvt) Ltd, Mrs. Kaushalya Perera and the Director of D. Samson & Sons (Pvt) Ltd, Mr. Asanka Rajapaksa were also present at the event. During the campaign launch DSI Supersport gifted a number of students of the educational division of Panadura with brand new school shoes.
DSI School shoes came into existence in 1962, as a solution to the constraints faced by the consumers when it came to purchasing school shoes. The vision of the brand was, and still is, to create an active and energetic younger generation that respects the values of society, whilst uplifting their confidence by offering a comprehensive solution to adorn the school uniform. DSI Supersport boasts such values as being a local brand, superior quality, keeping up with the trends, availability and convenience, unity, safety, comfort, care, reliability, and trust.What sets DSI Supersport apart from others of its kind is that its product offering features a list of much needed but rarely found characteristics including, durability, expert packaging, a wide variety of designs, reasonable pricing, excellent customer service and a strong sense of social responsibility. The latter is the primary purpose behind the launch of DSI Supersport's new campaign – "Make the Right Choice".
The newly opened DSI showroom is located at No: 387, Galle Road, Panadura.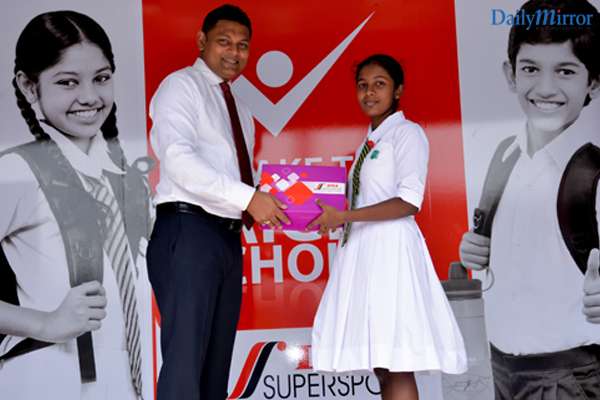 A student receiving the gifts from Mr. Thusitha Rajapaksa, Managing Director of D. Samson & Sons (Pvt) Ltd.