---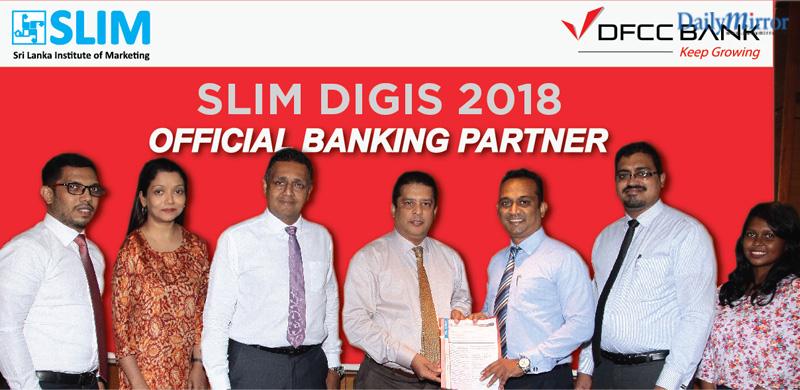 DFCC Bank proudly announces its status as Official Banking partner for the Sri Lanka Institute of Marketing (SLIM)'s first-ever digital awards to be held on the 26th March. Slated as the largest and most important digital awards in the country, the ceremony will witness leading corporate vying for the awards in different categories. The awards aim to bestow recognition to digital marketing work, innovation and talent. DFCC Bank's partnership with SLIM to facilitate these awards will provide the much-needed boost to prioritize innovation in digital marketing.
As Sri Lanka's digital industry continues to grow and makes its mark on the world stage, this competition will be judged to international standards by the industry's most respected digital professionals.
Commenting on the Digital Awards, the CEO of DFCC Bank, Lakshman Silva says, "DFCC Bank is proud to be associated with the first-ever Digital Awards in Sri Lanka, being organized by the Sri Lanka Institute of Marketing, the premier marketing body in the country, which is promoting digital innovation and awarding significant initiatives in digital marketing. DFCC Bank is ideally positioned to partner this path-breaking awards event on account of the vast strides we have made in offering digital banking solutions to customers for greater convenience and speed to customers. DFCC Bank is leading the banking industry in fin-tech as part of our dynamic digitalization drive. I believe these awards will serve as the right impetus for other organizations to accelerate their digital marketing initiatives."
DFCC Bank was the first to pioneer DFCC Virtual Wallet with a chatbot - Sri Lanka's first digital wallet in the Banking Sector; first bank to launch its own system for money transfers 'Lanka Money Transfer" – a web-based remittance system; Premier Go – the first interactive premier banking application; DFCC iConnect, a cutting-edge Payments and Cash Management Solution for businesses of all sizes, consolidated bank eStatements to enable the tracking of savings, current and loan accounts and MTeller services – doorstep banking service to all segments of customers.
The bank has made steady strides on credit cards, becoming the first in Sri Lanka to be certified for Visa QR payments, first to issue Visa branded corporate cards, first to issue a Vertical Credit Card for the Premier customers, and first to offer the Credit Card interactive eStatement. These help track expenses – monthly, last 3 months and provides a spend wise analysis, dispute transactions, apply for instalment plans, segregate debit, credit, international and local transactions and contact the bank with ease.
This innovation embodies financial inclusion as individuals and businesses gained access to useful and affordable financial products and services that meet their needs – transactions, payments, and savings – delivered in a responsible and sustainable way.
The Sri Lanka Institute of Management Accountants (CIMA) and the International Chamber of Commerce of Sri Lanka (ICCSL) recognised DFCC Bank as one of the ten "most admired companies" in Sri Lanka for 2018. The Bank was also ranked No 14, in Business Today's list of Top 30 businesses in Sri Lanka. Fitch Ratings Lanka Limited has rated DFCC AA- (lka).