---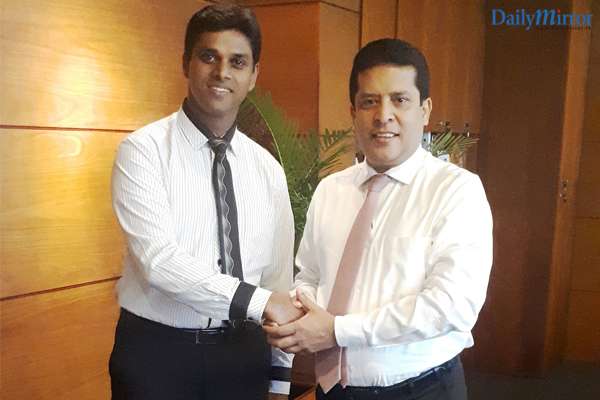 Tharinda Wimaraweera (left) being congratulated by DFCC CEO - Lakshman Silva
As a testimonial to its pledge of being an equal opportunity employer, DFCC Bank is proud to announce that Tharinda Wimalaweera from the Human Resources department at DFCC Bank was an integral part of the Sri Lanka Deaf Cricket Team that lifted the T20 Deaf Cricket World Cup 2018, beating India by 36 runs in the final played in Gurgaon, India recently.
Commenting on Tharinda's exemplary achievement, Lakshman Silva, CEO of DFCC Bank said, "I congratulate Tharinda and the rest of the Sri Lanka team on this great achievement! It gives each and every one of us at DFCC Bank immense pride and joy to claim Tharinda Wimalaweera as part of our team. His performance in the ICC T20 World Cup 2018 for the Deaf reflects his determination to set high personal goals for himself. Congratulations to Tharinda for his grit, perseverance and faith in his abilities. While undertaking the challenge of playing an international tournament, Tharinda was confident of DFCC Bank's continued support and encouragement. Given the right conducive atmosphere in the workplace, employees can excel in every field, no matter the obstacles they face. Sport is a great medium through which our employees express their individuality. At DFCC Bank, we believe that happy employees lead to happy customers, inspiring us to ensure an inclusive work culture where every single employee feels valued."
The Bank upholds professionalism, teamwork, openness, diversity, respect for individual values, recognition and employment for disabled. Whilst high performance standards are expected, employees are encouraged and supported to maintain a healthy work-life balance. DFCC Bank employees are encouraged to participate in extracurricular activities, especially sports, winning many sporting encounters in the recent past, especially in badminton, basketball and cricket. The DFCC team comprises of diverse and dynamic individuals who are professionals in their field, and who passionately explore newer and more creative ways of doing things.
DFCC Bank was recently recognised as one of the Top 10 Most Admired Companies in Sri Lanka by the Chartered Institute of Management Accountants (CIMA) and the International Chamber of Commerce Sri Lanka (ICCSL). It is rated AA-(lka) by Fitch Ratings Lanka Limited.