---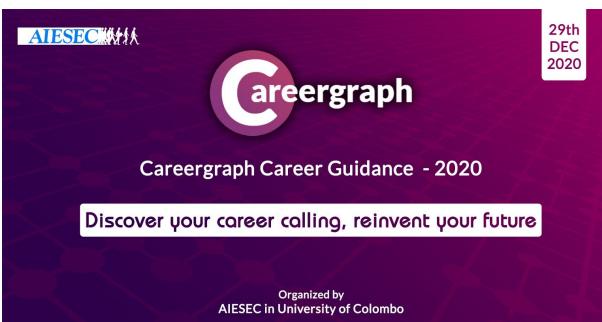 Careergraph 2020 is an event organized by AIESEC in University of Colombo to convey an in-depth understanding of the corporate world while preparing the youth to build up their career path. Careergraph 2020 will be held virtually to bring an interesting and informative session that will offer clarity and inspiration towards the career dreams of aspiring young individuals, who seek to develop their career during these turbulent times, with proper guidance and a winning vision.
AIESEC in University of Colombo is one of the pioneer local committees operating under AIESEC in Sri Lanka with the vision of"Engaging and developing every young person in the world". Likewise, they provide the youth with opportunities for leadership development through volunteering, interning and entrepreneurship training.
Careergraph 2020 will be held as a panel discussion conducted by few of the corporate world experts. During the session, those renowned speakers will be sharing their experiences on defining your career path, balancing your academics along with your passions, and becoming an integral part of the corporate world. As a young individual on the path of pursuing career dreams, how you could seek out opportunities and adapt to the ever-changing and challenging nature of the corporate environment will also be put into discussion.
This event will comprise areas concerned with choosing the precise opportunities to build a successful career, balancing the career with one's passion, and insights about developing the leadership potential through AIESEC as well
Careergraph 2020 will be held on the 29th of December 2020, and live-streamed via the AIESEC Sri Lanka Facebook page from 5.00 pm (+5.30 GMT) onwards. Join us through the AIESEC Sri Lanka Facebook page m.facebook.com/AIESECLK/?tsid=0.21630732866771796&source=result
For more information, visit the 'Careergraph 2020' event page on Facebook or contact Maheshi Yatipansalawa (Organizing Committee - President) on +94765369973 or Gihini Nawela (Organizing Committee Vice President - Delegates) on +94717576167.

Digital media partner - Daily Mirror Online, Hii Online