---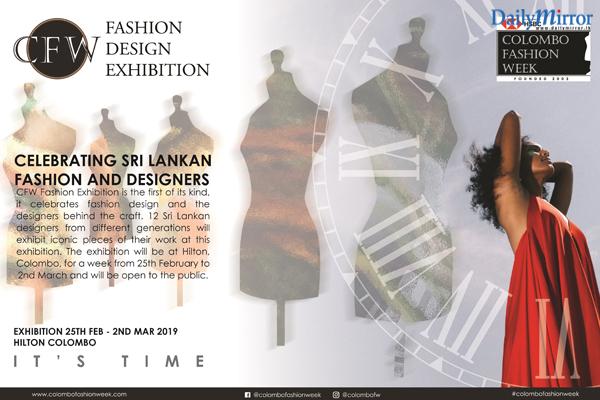 CFW introduces the Fashion Design Exhibition celebrating the craft of fashion design in Sri Lanka and the designers behind it. This exhibition is part of The Next 15 vision, which celebrates the work which through this exhibition will be enjoyed by fashion appreciators and fashion minded. The exhibition will be a journey of creative emotions captured on this platform. It will stay on for a week at Hilton, Colombo.
Twelve Sri Lankan designers, who have impacted the fashion design industry with their craft starting from the 1970 to present, will exhibit few of their iconic pieces that moved them creatively, these important pieces were a milestone in their journey.
"This is our 16th year and as part of our expanded vision statement THE NEXT 15, we must celebrate the works of our designers since the 70s 80s, hence this exhibition is unique, we are doing it for the first time and it will continue for a week for all to celebrate our designers and their craft." Says Ajai V Singh, Founder & Managing Director of CFW
The exhibition which will capture the creative and emotional journey of the designers will be formally opened on the morning of the 25th of February at Hilton.
Hi Magazine which also celebrates its 15 years is an important partner of this exhibition.
Each partner of the Fashion Week is a partner in the vision to create and develop a unique identity for Sri Lanka through the development of the fashion design industry. Title Partner HSBC, Official Hotel Partners Hilton Colombo, Shangri-La Colombo, Galle Face Hotel Colombo, Tresemme is the Official Hair Care Partner, SML Frontier Automotive - Jaguar Land Rover is the Luxury Automobile Partner, Vision Care is the Official Eyewear Partner, Serenia Residences is the Official Beach Residences Partner, Ramani Fernando is the Official Hair and Make-up Partner, Hameedia, Colombo City Walks, Altair Luxury City Living, Mullen Lowe as the Official PR Partner, Emerging Media as the Outdoor Digital Media Partner – all who share and extend their support towards the vision and aspirations of CFW.
For more information visit us at www.colombofashionweek.com, follow us on Instagram @colombofw, Twitter @colombofw and Facebook @colombofashionweek. Stay informed of the latest on CFW by using #colombofashionweek for the latest updates, photos, videos and more.