---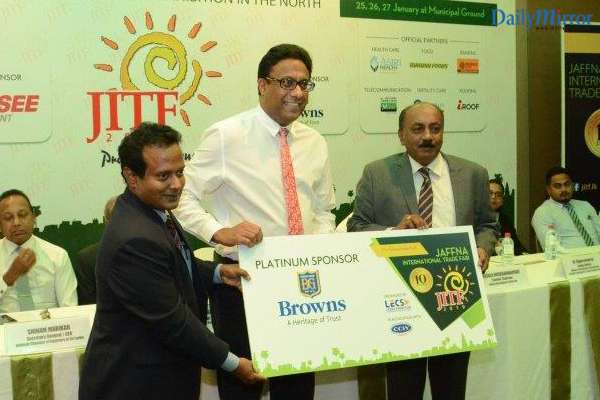 From left : Mr. V.K. Vignesh, Chairman of the Chamber of Commerce and Industry of Yarlpanam; Mr. Aasim Mukthar, CEO of Lanka Exhibition and conference services Pvt Ltd; and Mr Kennedy Joseph, Senior Vice President – Power Systems Division, Brown & Company.
In a clear indication of the vast potential of the northern market, Brown & Company PLC (Browns) has come on board as platinum sponsor for the 10th annual Jaffna International Trade Fair. The multi-faceted event, aptly named "The Gateway to the North", will take place from January 25th to the 27th at the Jaffna Municipal Grounds. Attracting over 60,000 visitors annuallythe event will give Browns the opportunity to strengthen relationships with end consumers and dealers as well as allow the company's vast portfolio of products to make further inroads in the peninsula
Browns will be represented at the event by their heavy machinery, power systems, environmental engineering, agriculture, pharmaceuticals, general trading, battery, tyres, consumer electronics, and air servicesdivisions. Each will offer visitors valuable insights into their products and firsthand experience in operating the latest consumer technology and heavy machinery.Further there will be unbeatable deals offered during the event.
A key example of this is from the Browns Heavy Machinery division which will be giving visitors a first look at the latest technical advances in innovative machinery and construction equipment. These include wheel loaders, excavators, skid steer loaders, back how loaders, self-loading concrete mixers, and light compaction equipment. The division will also be running a special promotion on world renowned Tata Hitachi excavators and ELGI air compressors.
The Power Systems division will be showcasing the latest innovations from brands like the UK's FG Wilson, India's Tata and Japan's Kuboto. The Environmental Engineering division will also have experts on site to provide visitors with answers to all their water treatment related questions.
The General Trading division which distribute a wide range of Internationally acclaimed brands like Makita, Hyundai, Eclipse, Tailin, Spear & Jackson, and Fireman, will be offering visitors dedicated demonstrations and a special discount of 25% during the trade fair.
Browns Deals, the company's consumer electronics arm, which will be offering discounts of up to 75% on everything from the most sought after phones to the latest televisions with unparalleled picture clarity will also be offering exclusive promotional prices, exciting bundle deals and an additional 10% off on Sanford home & kitchen appliances.
Visitors looking for great deals on batteries and tyres can also avail special discounted prices onmarket leading battery brands Exide and Lucas as well as world renowned tyres Servis and Aoteli. Adding an extra level of convenience to this offer is that the discount can be redeemed at any time at select dealers across the Browns Batteries and Tyres dealer network in Jaffna.
Browns Tours, which has been providing Sri Lankans with the freshest travel experience for almost five decades, will be offering visitors a special 10% discount on exciting tour packages across the globe.
Other products on display from Browns will be from world renowned brands like TAFE, Massey Ferguson, SIFANG, Yanmar, Samsung, Sony, Sharp, LG, Panasonic, Philips, Toshiba, JVC, Sanford, and many more.
Commenting on the immense opportunity provided by the Jaffna International Trade Fair, Danesh Abeyrathne, Chief Operating Officer of Brown and Company PLC, said, "ten years after the north opened up to business it still remains an untapped market. In fact, we see lucrative opportunities for Browns in Jaffna across our many industries. This is why we have chosen to be the platinum sponsor of this year's Jaffna International Trade Fair. Events like this lay the groundwork for educating consumers and maturing the market. It helps bring in investment to the area and develop industries. It showcases the limitless potential of Jaffna to the nation and we are proud to be a part of that."
The event is organized by the Lanka Exhibition & Conference Services (Pvt.) Ltd (LECS) in association with the Chamber of Commerce & Industries of Yarlpanam (CCIY) with the support of the Jaffna Municipal Council, the Sri Lanka Convention Bureau and International Business Council. The event is also endorsed by the Ministry of Industry & Commerce, and the National Chamber of Exporters.
Brown & Company PLC is a diversified conglomerate managing a fast growing and valuable portfolio of brands across several key industry sectors such as power generation, home and office solutions, agriculture and plantation support services, pharmaceuticals, investments, marine and manufacturing, and healthcare. A deep understanding of Sri Lankan consumer needs derived from being in business for over 140 years has made the Group thrive in all its sectors of operation. The Browns Group has been able to evolve and adapt to changing times and, most importantly, to changing customer needs.