---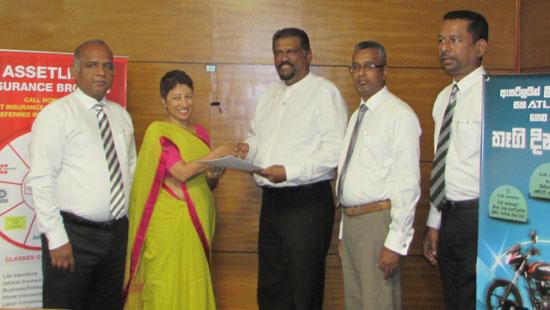 Officials of Amana Takaful and Assetline at the time of signing the agreement
Amana Takaful PLC (ATL) entered into a partnership with Assetline Leasing Company Limited and Assetline Insurance Brokers (Pvt.) Ltd (AIBL), offering leasing customers who opt for ATL insurance covers the chance to win many prizes.
The first prize is a Bajaj Discover 110 motorbike and the second prize is a waiver of 12-month Assetline Leasing installments. The third prize is an ATL SRC motorcycle insurance cover for five lucky winners. Customers can also win attractive consolation prizes such as Hi-Fi setups, Rice cookers and single burner gas cookers with five-kilogram gas cylinders.
The promotion will run from April 1, 2019, to June 30, 2019.
ATL CEO Fazal Ghafoor said: "We are proud to partner with Assetline Leasing, one of the leading leasing companies in the island. We expect an overwhelming response from customers to avail of this promotion. ATL has consistently added value to customers; this promotion is a true demonstration of our customer centricity."
Ghafoor added further that: "As a trusted insurer to all segments of society, in our journey of 20 years, ATL has been instrumental in introducing many 'one of a kind' insurance solutions to its consumers islandwide."
AIBL Managing Director Jayalal Hewawasam said: "We are committed to ensuring that our customers have access to the best insurance. We are pleased to enter into a partnership with Amana Takaful to bring our customers a very attractive motor insurance policy as well as an opportunity to win prizes in the process."