---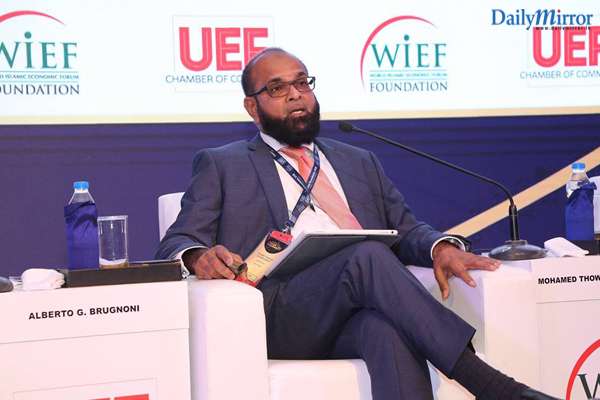 Amãna Bank's Chief Executive Officer Mohamed Azmeer represented both Sri Lanka and the Bank as a panelist at the recently concluded World Islamic Economy Forum (WIEF) Roundtable held in Chennai, India. Held under the theme of Innovative and Alternative Finance for Business and Infrastructure Development in India, the Chennai Roundtable was inaugurated by Shri. O. Panneerselvam, the Hon. Deputy Chief Minister of Tamil Nadu along with the patronage of Chairman WIEF Foundation and Former Deputy Prime Minister of Malaysia Tun Musa Hitam. The conference key note address was delivered byShri. M.C. Sampath, the Hon. Minister for Industries, Tamil Nadu.The event was hosted by United Economic Forum (UEF) Chamber of Commerce, which is an apex body in Tamil Nadu promoting trade and commerce, entrepreneurship, FDI and infrastructure development. The forum which was attended by over 600 delegates, witnessed more than 20 speakers representing 12 countries, presenting a cross section of topics on the Alternative Finance model.
Sharing the Sri Lankan success story and its journey in to Islamic Finance, Amãna Bank CEO Mohamed Azmeer contributed as a panelist to the session on 'Islamic Finance: Learning's from Abroad' along with other panelists representing India, Malaysia, Australia and Italy. At the panel discussion Azmeerhighlighted that Sri Lanka is globally ranked 13thin the Islamic Finance Development Index published by Thomson Reuters and ICD studying 131 countries involved in Islamic Finance, while also being the highest ranked non-Muslim nation in the index. Azmeer also went on to note that out of the 131 countries studied, 84 countries were non-Muslim majority countries, showcasing evidence to the attraction and demand for Islamic Finance crossing the platform of Faith Based Appeal and reaching out to a higher platform of Economic Appeal across the world.
Further presenting the case for alternative finance, Azmeer shared how the universal value proposition of Islamic finance can help economic growth as it always stands integrated with either the real sector, external sector or fiscal sector of the economy, ushering in financial discipline, unlike a conventional system where excessive financial sector growth in isolation could lead to a debt trap. Providing evidence of the economic impact it has created in Sri Lanka, Azmeer mentioned that Islamic Finance has spanned across multiple industries ranging from Infrastructure, Manufacturing, Agriculture, Fisheries, Trading, Shipping & Logistics, Aviation & Transport and Services.
Commenting on his participation Amãna Bank CEO Mohamed Azmeer said "I am indeedhonoured and pleased to have showcased the Sri Lankan success story on Islamic Finance on a global platform at the WIEF Chennai Roundtable. Listening to the various thought provoking sessions,we see great potential for the development of non-interest based participatory financing across the region."
Amãna Bank PLC is a stand-alone institution licensed by the Central Bank of Sri Lanka and listed on the Colombo Stock Exchange with Jeddah based IDB Group being the principal shareholder having a 29.97% stake of the Bank. The IDB Group is a 'AAA' rated multilateral development financial institution with an authorized capital base of over USD 150 Billion which has a membership of 57 countries. Fitch Ratings, in June 2018, affirmed Amãna Bank's National Long Term Rating of BB(lka) while revising its outlook to Positive from Stable. Amãna Bank does not have any subsidiaries, associates or affiliated institutions representing the Bank.