---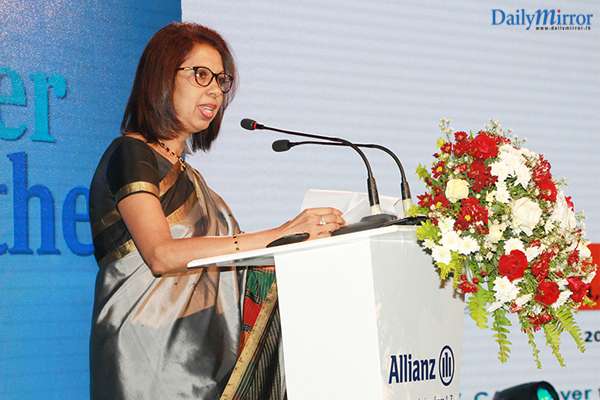 Surekha Alles, Managing Director – Allianz Lanka, speaking at the event
Allianz Lanka recently held their annual awards at the Waters Edge to celebrate their star performers. The theme for the night was "Stronger Together" a nod to the company's recent acquisition of Janashakthi General Insurance. The chief guest of the evening was George Sartorel, Regional CEO – Allianz Asia Pacific, who attended the event with guests of honour Surekha Alles, Managing Director – Allianz Lanka, and Alan Smee, Head of Property and Casualty – Allianz Asia Pacific.
The high point of the year for Allianz team members, the annually held event is designed to generate a sense of close-knit camaraderie and nurture the performance culture the company is renowned for around the world. This year's event comes on the heels of Allianz Lanka's historic acquisition of Janashakthi's general insurance business. The acquisition changed Allianz's market presence in Sri Lanka and accelerated the company's growth giving it a market share of approximately 20%. The transaction also represented one of the largest investments into Sri Lanka demonstrating Allianz's confidence in the market.
The Allianz Annual Awards 2018 brought together this newly amalgamated team to recognize and reward individual successes, outstanding team effort and effective partnerships. Over 300 star performers were recognized for their stellar performance and commitment towards the company.
Speaking at the event, Surekha Alles, Managing Director – Allianz Lanka, said, "Since Allianz entered the Sri Lankan market we have gone from strength to strength to become a key player in the country's insurance industry. 2017 was no different as we sought to retain our position as one of the strongest insurance companies in the market and looked at all growth opportunities available to us. We acquired Janashakthi General Insurance Limited, a company with a business portfolio that complemented our own. Hence, today we have a commanding market presence as well as the best sales force in the industry. We are proud to recognize and reward the spirit of these committed individuals."
The overall best performers in four categories walked away with the grand "Champion of Champions" trophies. The highly coveted Director's Award was also presented to stellar achievers of the year and the Million Dollar Roundtable qualifiers were also recognized.
Allianz Insurance Lanka Ltd. and Allianz Life Insurance Lanka Ltd., known together as Allianz Lanka, are fully-owned subsidiaries of Allianz SE, Germany, a world leader in integrated financial services. Having started out as a Greenfield operation in 2005, it has emerged as one of the fastest growing insurance service providers in Sri Lanka. The company prides on supporting its clients' business strategy by understanding their risk profile and needs, and providing individual solutions from its world class portfolio of products and services. Around the world, over 140,000 Allianz employees serve some 88 million retail and corporate customers in 70 countries, who place their trust on the knowledge, global presence, financial strength and solidity of Allianz to support them in their moment of truth.