---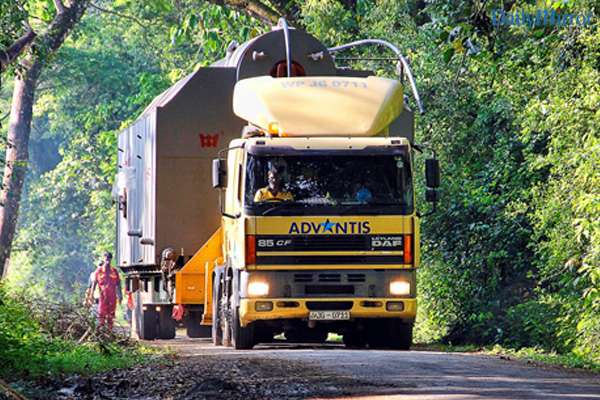 Advantis Projects' trailers transporting the heavy cargo through rural parts of Sri Lanka
Continuing to support the nation's power and energy sector, Advantis Projects announced that it had been appointed as the logistics solutions provider for COSCO Shipping Project Logistics Co., LTD who secured the total transportation of the country's first 10MW biomass power plant project, being commissioned in Kalawaaragama,Moneragala by Green Watts (Pvt) Ltd.
Advantis Projects in partnership with Chinese shipping major, COSCO Shipping,managed the movement of plant and machineryrequired for the project from the Port of Shanghai. The consignment of cargo of 7000 CBM (cubic meter), reached the Hambantota port on board a Multi-purposevessel operated by COSCO Shipping.
This is the first break bulk cargo to arrive at the port of Hambantota post the recent transfer of operations to Hambantota International Port Group and Hambantota International Port Services.
Speaking on this momentous occasion the Managing Director of COSCO Shipping Lines Lanka (Pvt) Ltd. Joe Meng said, "We are proud to be engaged in the movement of the first 10MW biomass power plant to Sri Lanka from Shanghai, China. It is indeed a great honour to contribute towards the green energy sector of Sri Lanka. We have received commendable support from our local logistics partner Advantis Projects in ensuring an incident free movement of the cargo."
The cargowas unloaded at siteusing Advantis Projects' new 250T heavy lift crane and transported by land to the project site in Kalawaaragama aboard the logistics provider's trailers.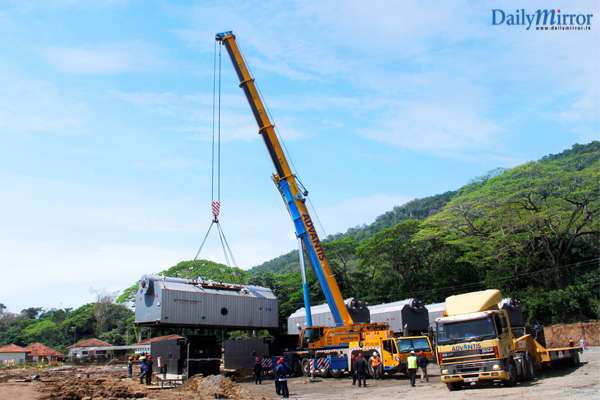 Advantis Projects' 250T crane unloading the cargo at the Kalawaaragama site
Speaking about the cargo movement Shadil Rizan, General Manager of Advantis Projects said, "We are honoured to extend our logistics expertise to support projects of this nature which will propel the country's growth in a more sustainable manner. It's truly gratifying to see that the investments we have made in terms of developing our employees and expanding our fleet of equipment has paved the way for projects of this magnitude to be handled entirely with local expertise."
Having worked on similar cargo movements both within Sri Lanka and around the world, Advantis Projects has extensive experience in managing large scale projects for the power and energy sector. Some of the noteworthy projects in recent times include handling the ship to shore ground logistics of windmill cargo for the successful installation of 16 wind turbines in Pallali, the transportation of four 100 ton diesel engine generators from the Horana BOI zone to Lahore, Pakistan and the relocation of the 24MW Lakdhanavai power plant from Sapugaskanda to Nyala, Sudan.
Advantis Projects is the market leader in providing heavy lift project logistics solutions to local and international contractors who are involved in large-scale infrastructure development projects in Sri Lanka. The company brings nearly two decades of experience and a proven delivery record that has been driven with technology innovation and adherence to industry best practices. The company specializes in freight, chartering, customs clearance & forwarding (C&F), project &general cargo handling, inland transportation, storage facilities, and numerous services related to logistics chains.
As the project logistics arm of COSCO Shipping Group, one of the largest shipping and logistics companies in the world, COSCO Shipping Project Logistics Co. Ltd, focuses its core business on the transportation of special cargo including oversized and super-heavy cargo, which are not suited for containers. COSCO Shipping Specialized Carriers, is the only company worldwide with a fleet comprising a wide variety of modern Semi-submersible Heavy-lift Vessels, Conventional Heavy-lift Vessels, RO-RO/LO-LO, PCC, Multipurpose and General Cargo Vessels. The total fleet of the Group comprises of 1,114 vessel with a capacity of 85.32 million DWT.