---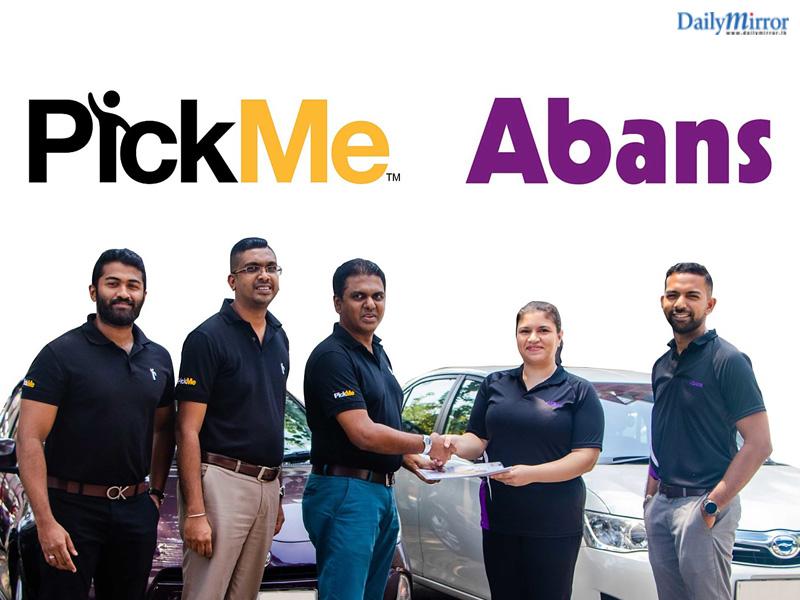 From Left to Right Rifas Jiffry - Accounts Manager, PickMe, Lakmal Weerasuriya - Head of Corporate Sales, PickMe & Isira Perera – COO, PickMe, Jerastin Dubash - Digital Lead, Abans Group & Sahan Siriwardena - Senior Logistics Manager, Abans Group
Continuing to strengthen ties with corporate giants in the country, PickMe, Sri Lanka's leading technology driven mobility solutions provider recently entered into a partnership with Abans PLC, one of Sri Lanka's leading household brands, to provide staff mobility solutions.
Abans PLC will benefit through this partnership since PickMe's reliable, technology-enabled platform will ensure that staff travel is safe, convenient and reasonably priced through the establishment of a corporate account.
"Our partnership with Abans PLC will fulfill the company's need for a foolproof and user-friendly mobility solution. We have been partnering with companies from around the island to provide the essentials for a trusted, reliable, safe and affordable transportation solution. Our services have been utilized by many who require efficient transport solutions that are easy to track in order to maintain proper records and also to conduct their business activities in a professional and efficient manner," said Mr. Lakmal Weerasuriya, Head of Corporate Sales at PickMe.
Over the years, PickMe has been including major companies such as John Keells Holdings, Hayleys Group, Brandix, Aitken Spence and MAS Holdings among many others into its corporate partnership fold.
"Abans Group is on a journey of digital transformation and our partnership with PickMe to establish a corporate account for staff travel at Abans PLC is just one of the many initiatives the Group will be embarking on in the next few years. We are happy to support another Sri Lankan-grown business and to foster synergies between our organizations," stated Abans Group of Companies' Digital Lead, Jerastin Dubash.
The PickMe corporate solution offers paperless transactions, 100% visibility and traceability at economical rates. Corporate partners can use PickMe's automated log sheet enabled route map generation system that comes with travel history to maintain proper records of transportation. The function is easy to manage as the sheets can be exported into Excel or as a PDF file with a special field for reference. Relying on the strength of its extensive vehicle fleet which includes three wheelers, bikes, mini cars, sedans and vans, PickMe assures vehicle availability at any given time. PickMe's 24-hour special corporate support line and the coverage grid also provides corporate clients access to mobility services from Colombo, Kandy, Gampaha, and Negombo, etc.
"Our web and mobile based platforms are especially suited to meet objectives such as this, as we provide relevant functions such as live tracking and route maps. Our systems undergo constant analysis and necessary modifications to ensure the smooth functioning in addition to the introduction of new features aimed at making the user's experience better," Lakmal added.
The PickMe Board of Directors represents a multitude of shareholders and consists of Ajit Gunewardene as Chairman, Conrad Dias (representing LOLC PLC.), Dinesh Rodrigo (representing Interblocks Ltd.), Ruchi Gunewardene (Managing Director - Brand Finance Lanka) and Jiffry Zulfer who is the CEO of the company, managing its day to day operations.
PickMe is Sri Lanka's leading technology driven mobility solutions network that enables instant taxi hailing via a digital platform that hosts the largest organised taxi fleet in Sri Lanka, ranging from Three-Wheelers, Mini Cars, Cars, Vans and Luxury Sedans, also including Trucks for logistics solutions available islandwide with special footprints in Colombo, Gampaha, Kandy, Matale, Galle, Kurunegala, Matara and Kegalle Districts, and PickMe Food, the company's fast and hassle-free order and delivery system between restaurants and patrons in Colombo, its suburbs, Maharagama, Kottawa, Homagama, Negombo and Kandy.
Since 1968, Abans Group's sphere of influence has been growing, reaching every corner of Sri Lanka. Its presence in key industries, including retail, commercial real estate, manufacturing, logistics, environmental management and finance, has had a transformative impact on the Sri Lankan economy as a whole. Through its vast product range offerings, service provision, employment opportunities and CSR initiatives, Abans Group is committed to providing solutions that help enhance people's lives.