---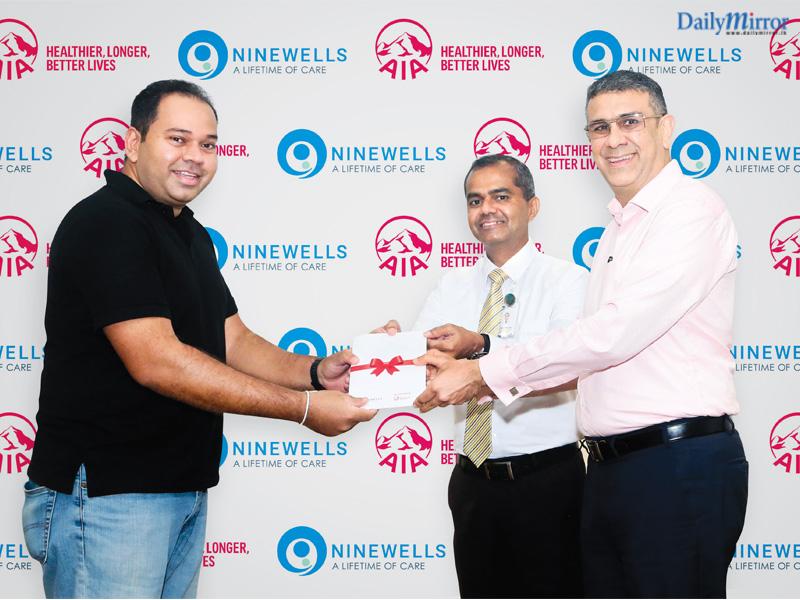 AIA CEO Nikhil Advani and Ninewells Chief Operating Officer and Medical Director Dr. Vibash Wijeratne hand over the first complimentary AIA Life Cover to a new parent at Ninewells.

Welcoming a newborn baby to your family is one of life's greatest pleasures. All parents want nothing but the best for their children and bringing a newborn in to the world brings with it a significant responsibility of ensuring protection and wellbeing for them, for years to come.
As a company devoted to helping people live healthier, longer, better lives, AIA appreciates this monumental moment of joy intertwined with a vast sense of responsibility. And while we can't help in the many things that new parents have to deal with as they plan out a safe and fulfilling life for their babies, there is one thing we can help with. Being in the business of life insurance, we can offer new parents the peace of mind in knowing that they are financially protected in the event they need it. In doing so, AIA has partnered Ninewells to provide financial protection and security to families that step into parenthood by way of providing an LKR 1 Million worth of Worldwide Personal Accidental Life Insurance cover free of charge.
AIA's Chief Executive Officer Nikhil Advani commented, "As a parent, I know, having a baby is the most amazing moment for a couple, bringing great joy and a lifetime of happiness. We want these new parents to know that they can count on AIA to be there for them throughout their life journey together. We are happy to partner Ninewells which is one of the country's best maternity hospitals to add value to their customers by giving them free insurance coverage at a time when it becomes most meaningful to them. AIA's role surpasses that of an insurance payer to a life partner and that is why we want to be there for people in life's most wonderful times, just like we are there for them when things get tough."
Ninewells Chief Operating Officer and Medical Director Dr. Vibash Wijeratne said, "Adding a new member to the family is the most joyful experience but it comes with it a huge responsibility and while we do our best to ensure the best medical attention and care, it is great to have a partner such as AIA on board to offer financial peace of mind and protection." The Director Marketing Nilantha Rathnayake added "Ninewells is the market leader in women and childcare in Sri Lanka and provides a wide spectrum of treatments for women and children. As a hospital committed to adding value to our customers, we are delighted to have AIA onboard to offer our new parents a gift that will truly make a difference to their lives while guiding them towards financial protection at this significant milestone of their lives."