---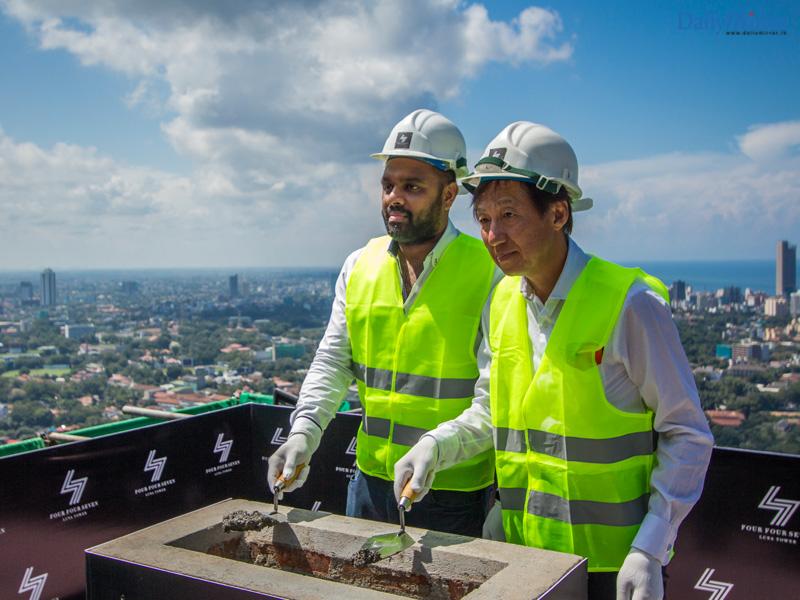 Stefan Abeyesinhe - Executive Director, Asia Capital PLC / 447 Luna Tower and Toshiaki Tanaka - Director, Asia Capital PLC, laying the final brick at the topping up ceremony of Luna 447
447 Luna Tower recently marked the topping up of its tower with a traditional ceremony. The project is part of a key multi-million-dollar investment portfolio in Sri Lanka by Belluna Co. Ltd and Asia Capital PLC. Belluna Co. Ltd is reputed as one of Japan's foremost real-estate giants with a strong track record and global presence. Scheduled for completion in 2020, the iconic luxury project offers an unrivalled value proposition on account of its impressive project partners, aesthetics, attractive pricing and strategic location in the heart of Colombo at Union Place in close proximity to the commercial hub, leading schools, shopping area and hospitals.
447 Luna Tower is poised to be the only condominium in the heart of the city to strike a perfect balance of elegant design, luxury living and convenience of location at a competitive price. Committed to make upscale living affordable, the apartments are priced in Sri Lankan Rupees (LKR).
Offering all of the comforts and conveniences of luxury urban living, 447 Luna Tower apartments provide a comprehensive assortment of facilities including a gym, garden terrace and a kids' pool. On the 45th floor, a modern and eclectic rooftop offers striking panoramic views of Colombo's skyline and the Indian Ocean, along with a club house, an infinity pool, deck, all which are the ideal spots to relax and unwind. The apartment complex is also equipped with a spacious and beautifully-appointed lounge and reception area, lobby, function room as well as administrative and security offices.
447 Luna Tower is being helmed by reputed partners, such as Philip Weeraratne Associates as Principal Architects - a firm that boasts an array of upmarket hotels and minimalist designer homes in their portfolio; Arup and Ong & Ong - Arup is an international leader in structural engineering that will look to bring a world class depth of creative and technical expertise as they provide a thorough structural review of the apartment complex, while Singaporean firm Ong & Ong - operating in 12 countries across three continents - offers unrivalled know-how in cross-discipline, integrated design solutions.

447 Luna Tower is the first of many residential projects to be undertaken through the Asia Capital and Belluna alliance. Other projects include an ultra-luxurious 57-room resort in Galle, completed in August 2018 and currently operational; a 300-room city hotel on Marine Drive in Colombo 3 which is under construction; as well as their first resort endeavour with Marriott International to debut the Westin brand in Maldives – Westin Maldives Miriandhoo Resort, entailing a 70-room property which opened its doors in October 2018. A further multi-development project in Colombo is in planning stages. Belluna Co. Ltd., Japan's long-term plans with Asia Capital PLC reiterates the company's confidence in Sri Lanka's growing real estate industry.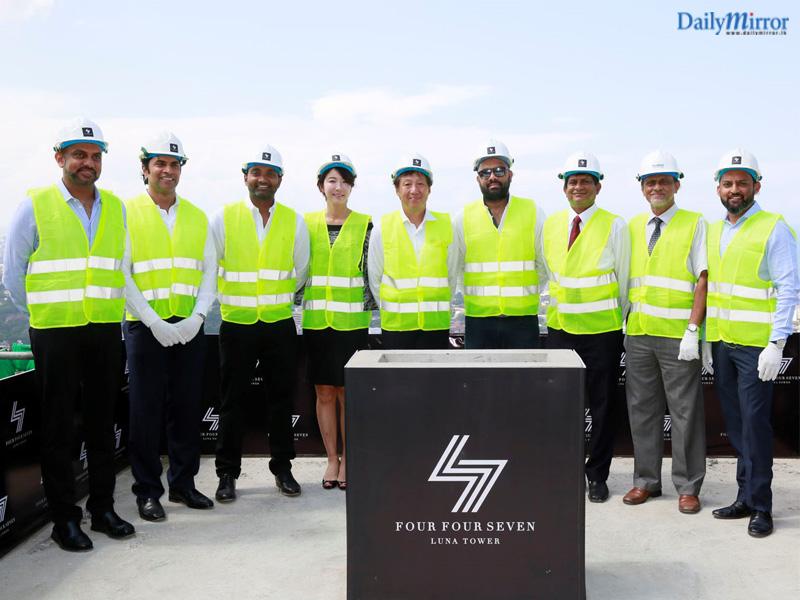 From left to right, Philip Weeraratne - Principal Architect, PWA Architects, Eraj S Rajapakse - Senior Manager – Projects, 447 Luna Tower, Sandun Hettige - Director, 447 Luna Tower, Misako Tanka - Directors, Asia Leisure Travels Pvt Ltd, Toshiaki Tanaka - Director, Asia Capital PLC, Stefan Abeyesinhe - Executive Director, Asia Capital PLC / 447 Luna Tower, Peter Fernandopulle - Financial Consultant, Belluna Lanka (Pvt) Ltd, Mervyn Fernando - Director,
Sanken Constructions (Pvt) Ltd, Reyhan Morris - Director, Asia Capital PLC / 447 Luna Tower