---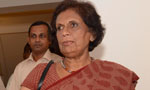 Former president Chandrika Bandaranaike Kumaratunga said today that she had no medicine for President Mahinda Rajapaksa's 'Bandaranaike phobia'.
Speaking at a media briefing held today at the opposition leaders' office to announce Provincial Councillor Hirunika Premachandra's alliance with the common opposition she made this observation in response to a question by the media.
"I do not have any medicine for Rajapaksa's Chandrika or Bandaranaike phobias. I am here to support Maithripala Sirisena, and I do not have any other agenda. I am not after any position. My concern is his (Maithripala's) victory," she said.
Last week President Mahinda Rajapaksa told a group of newspaper editors that it was not Maithripala Sirisena who was his opponent but former president Chandrika Bandaranaike. (Chathushika Wijeyesinghe)