---
The Blue party had come to a decision to back Gota's candidacy as practically all members of the central committee were in favour of it. And Number One was due to make the official announcement about it at a media briefing by the weekend. However, the media briefing was suddenly cancelled. The party issued a media communique saying that the briefing would be held the following day and that media briefing too did not come off. Next, the party said that the Number One would announce the party decision in an address to the nation. And that too did not happen.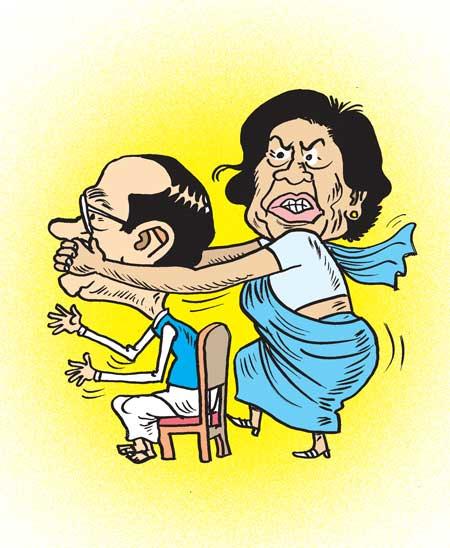 It was the Blue party Diyawanna members who got really agitated over the delay in announcing the party decision, though there was hardly any reaction from Pohottuwa.

The highly concerned Blue party Diyawanna members who had made discreet inquiries had later stumbled on the real reason behind the delay: Number One had come in for a tongue-lashing from a furious former Madam, who had threatened to quit the party along with his close supporters and make a dramatic appearance on Punchi Dasa's campaign stage!
So, Number One had sent peace emissaries to pacify the former Madam while resorting to procrastination.

However, later the decision to team up with Pohottuwa was announced at the Rajarata meeting and all steps were taken to sign the agreements as planned when Number One discovered that the fury of the Blue Diyawanna members against the former Madam was far greater than the latter's fury at allying with Pohottuwa,
they say.