---
Several Blue Diyawanna members have planned a strategy to prevent Number One from going into an alliance with Pohottuwa, they say.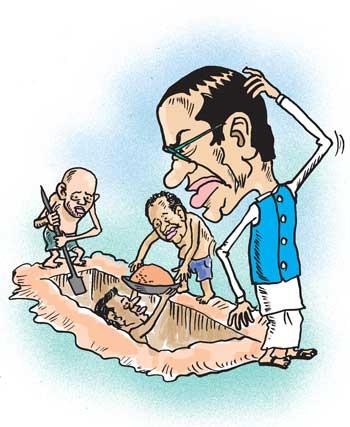 These dissidents have already begun reminding the boss of the pre-2015 scenario.

Incidentally, Number One had recently told at a discussion held at a mansion in Kandy area that the bilateral talks between the Blue party and Pohottuwa were progressing well and the former strongman had personally spoken to him to sort out some knotty issues. On hearing about that, a prominent dissident from Rajarata had called on Number One and beseeched him not to dig his own grave by teaming up with Pohottuwa guys again.

"If we join Pohottuwa, they will relegate us to the third row, not even the second one," he had told Number One.

Number One in reply had said: "Then, name the alternative left to us!"

The Rajarata man made no response to this request, they say.