---
The old game of intruding on others' authority has begun again, they say.

The Big Boss of the new government this time issued an extraordinary Gazette notification ahead of making Ministerial appointments clearly outlining the subjects, functions, affiliated departments and institutions and the scope of different Ministries at the top team level and state level. This was an obvious bid to prevent the possible instances of one purohita poking his nose into the official affairs of another purohita – a lesson learnt from past experiences.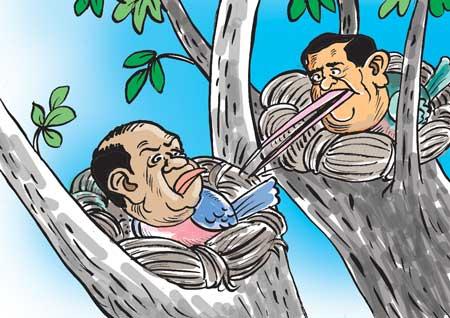 However, one may wonder whether an act of indiscretion attributed to a member at top team level handling the affairs of the working class indicates that the 'usual intruding into others' territory' has begun again!

The top team member in charge of this subject is a senior politico who switched over to Pohottuwa from the Yahapalanaya at the most opportune moment.

There is a purohita at State level whose functions too concern the working class, but only those employed abroad. This subject has been assigned to him with a clearly defined scope and affiliated institutions leaving no room for another purohita to poke his nose into the affairs of this Ministry. But it has happened, they say.

The member at the top team level had intruded on the affairs of an institution coming under the purview of the purohita at State level!

The purohita at the state level had tolerated the intrusion for some time but had decided enough was enough when it continued and had complained about it to those in the highest echelons.

According to our sources, the meddling one had got an earful from the high authorities.