---
A tug o'war over the secretarial post of the newly formed Greens-led political alliance continued for the last two or three weeks.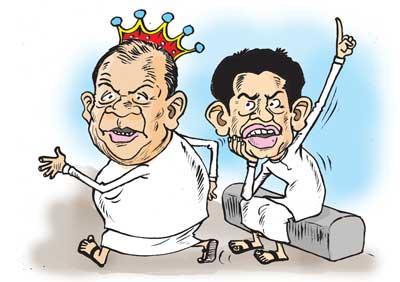 While the hoo-ha over the post was making a big bang, a new character had entered the equation.

This character was none other than the well -known political son claiming to his credit a string of political achievements including being the main architect of yahapalanya. His dad is also one well nurtured in the country's political culture having turned extreme right after starting the career from the extreme left.

The political son too has a political party of his own and he happens to be its main secretary. The Saji faction, while looking for an old party for the purpose of registering their new alliance had asked the political son also whether he was agreeable to registering the new alliance under his political party with the necessary name-change, he had replied: " You may register your alliance under our party to suit your purposes, only if you agree to appoint me as it's the main secretary!"

However, the high-ups of the Greens-led alliance had politely turned down this request and had proceeded to register the alliance as Samagi Balavegaya' with Madduma as the general secretary.

By the way, the political son is said to be down-hearted these days due to his offer being turned down.