---
A stocky former Diyawanna politico from the South who had once been a close buddy of Number One has found himself at cross-purposes these days, they say.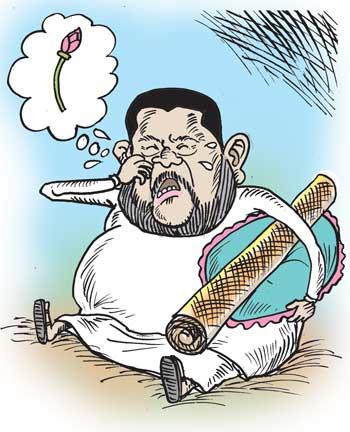 The politico had been fawning on the former strongman in the latter's heyday, but later had turned his back on him. By the way, it is well known that he once had occasion to consult a psychiatrist about some mental problem.

Despite once rebuking the former strongman, the man had suddenly undergone a change of heart a few days ahead of the Pohottuwa convention and had tried to call on the former strongman and the military sibling to offer his apologies and request that let bygones be bygones.

When both the former strongman and his military sibling refused to receive him, the contrite one had sent them word saying, that he was determined to attend the sessions uninvited come hell or high water.

On hearing about the stocky one's intention, the former strongman had sent back the following message: "You cannot make atonement for your sins by attending our convention… You had better not come…If you come, the crowd may jeer at you and the reception could be something even worse than that…"

This message had made the desired effect on the politico from the South. Nowadays he is said to be ranting and raving at people responsible for reducing him to a political nonentity, they say.