---
A prominent top team member of the government paid an official visit to Jaffna recently.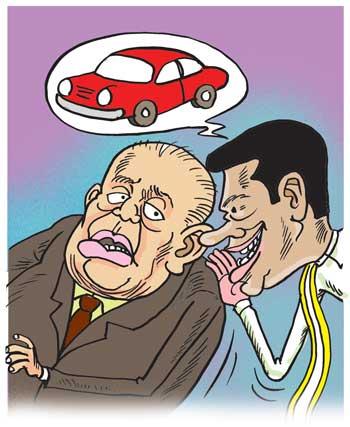 He attended the inauguration of a series of development projects in the peninsula. The Northern main alliance stalwart Thiran too was associated with the top team member at these functions.

The top team member attended a public rally held at the conclusion of his itinerary where he spelt out the development activity in the pipeline as well. While the meeting was underway, the city council chair approached the top team member and whispered in his ear: "I want to ask a favour from you, Sir!"

"What is it?"

"You know, Sir, that there is no provincial chief for the North…!"

"So, you want to run for it?"

"Oh! No! Sir! As there is no provincial chief, the official car assigned to him is lying idle! …Why don't you release it for my use?"

The top team member appeared taken aback by this request. Thiran who overheard the request reacted with a facial expression of anger.

"Let me look into it later!" was the top team member's con-committal reply, they say.