---
There is a good demand for both popular willow- wielders and film stars in the country's political arena. Therefore, more than a dozen from categories are said to be getting set to enter the next race.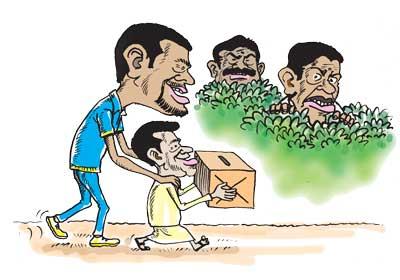 In the past, our country's peerless spin bowler who was active in the 'Viyath' circle founded by our Big Boss had received invitations galore to enter the big race. He could not give a positive response to any of those invitations due to strong objections from his family members.

The Doosra Master under pressure again has decided to field his younger brother and lead the campaign himself.

The Doosra Master together with a youth contingent has already embarked on some social work programs in the estate sector as a start for the election campaign. Some Diyawanna politicos already ruling the roost in the upcountry estate sector are said to be trying their level best to obstruct the spin master's political journey. But the people are reportedly fast rallying round him pointing to a radical change in the political scenario in the estate sector in the days to come, they say.