---
There is a flamboyant JO senior hailing from the central hills, who held high political office in several previous governments.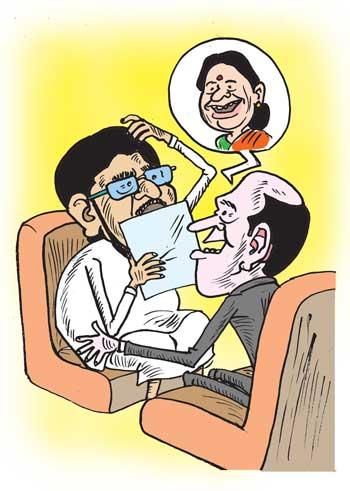 This politico often claims that 'foreign affairs' is his forte and that he would be able to acquit himself well as the top team member in charge of this subject in a future Pohottuwa government.

The politico called at the Wijerama Mawatha residence of the former strongman the other day. More or less at the same time, an editor of a foreign newspaper with a high circulation in Asia arrived at the former strongman's residence.

The former strongman at this time was engaged in an important political discussion inside and the two visitors had to cool their heels for a while in the visitors' lounge. The duo, having introduced themselves to each other, soon got involved in a chit-chat.

Our politico keen on impressing the foreign visitor began commenting on various foreign VIPs he had made friends within the course of holding high office. While referring to various foreign dignitaries he had met he was saying: "Mister …, by the way, Indian Foreign Minister Sushma Swaraj, is a good friend of mine …!" The foreign newspaper editor who looked surprised, interrupted the politico: "If you know her well, you ought to know the latest news about her!"

"What is it?"

"Sushma Swaraj passed away last week! All State obsequies are over! In fact, your leader too had conveyed his condolences through a Twitter message!"

Our politico who instantly looked ill-at-ease muttered: "Ah! She has passed away!"

The politico soon after, left the place saying that he had to keep an important appointment!