---
A few Green front-liners have reportedly been making overtures to the current regime for some time. Some of these adventurers had been even overlooked when electing the office-bearers to the party recently.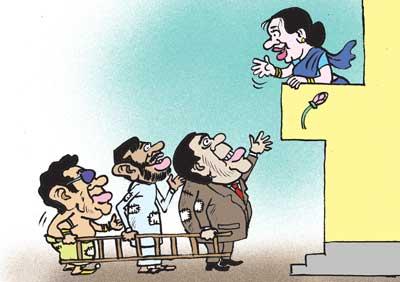 It was earlier reported that Daya from Digamadulla, Karuna from the city and Gemunu from Ruhuna who are among those sidelined when making appointments to party hierarchy were busy planning a new party alliance. But it is now understood that their plans had gone haywire.

Now the Green stalwarts who have thus been left high and dry have reportedly staked their political future on the friendship of a lady who recently quit the telephone party and is said to be having close ties to top people in the current regime. However, it is not so far clear whether they plan to cast their lot with the current regime or to implement any other hidden agenda, they say.

By the way, sources close to the regime say that the top men in the regime are not at all keen on welcoming these stranded characters.

However, the newly found friendship between the lady and the Green 'discards' has come under the watchful eye of many political observers, they say.