---
There was an outcry over the shifting of the Agriculture Ministry to a building owned by a popular film star at a hefty cost. The monthly rent that cost the exchequer had been Rs. 23 million!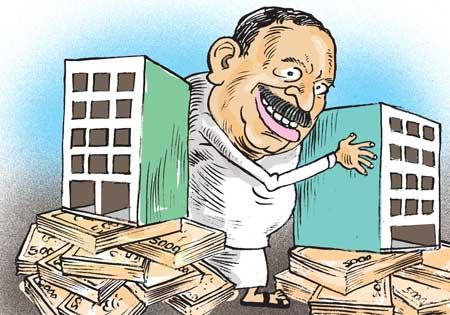 Heeding the public outcry, the current regime has now relocated the Ministry to the State-owned Govijana Mandiraya at Battaramulla!

Shifting of the Ministry back to the old place despite the rent payment for the ensuing year too had already been made, had taken place mainly due to the insistence of the state minister.

Amidst the ho-ha being raised over the Rs. 23 million-rent building, a piece of news about a building taken on rent at similar high cost had begun spreading in political circles. The monthly rent paid for this building marked by a red-cross is said to be Rs. 22 million – just one million less than the monthly rent paid for the building owned by the film star!

It had come to light that a non-Cabinet high-up of the previous regime who had been tasked with a special development project had taken on rent the building that cost the taxpayer Rs. 22 million a month. The leader of a minor party, this former high-up had made it to Diyawanna from a district with a cool climate. So far, none had questioned this politico about the hefty rent he had made the previous regime to pay.