---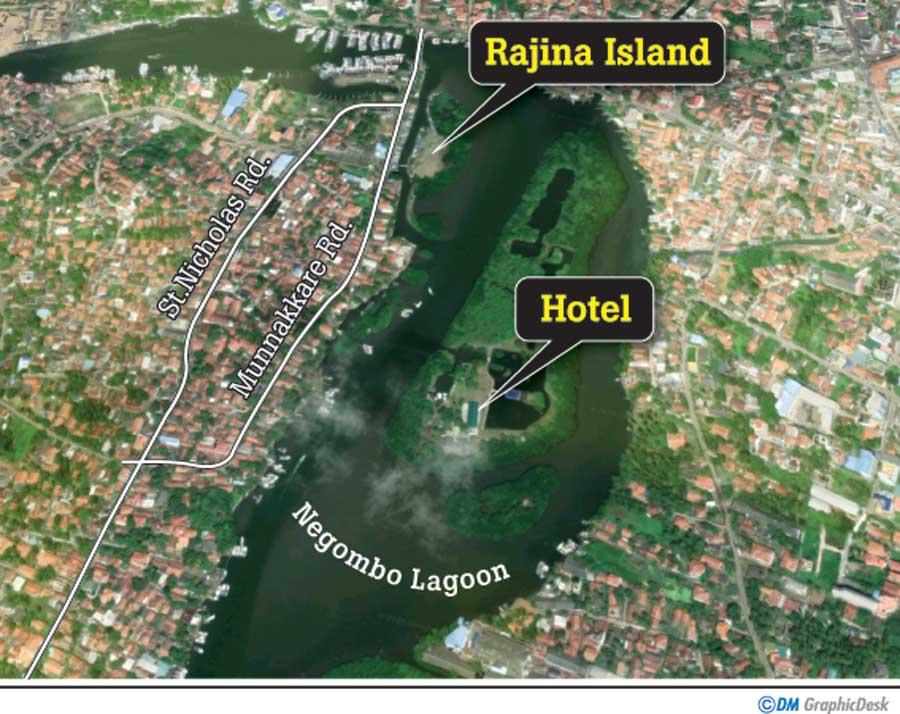 At a time when the world has acclaimed Greta Thunberg as a global leader fighting climate change and other pressing environmental issues, the Sri Lankan audience started lauding Gampaha District Forest Officer Devanee Jayathilaka for her courage. In a video that went viral on social media, Devanee was seen arguing on a matter with regard to the construction of a playground at Rajina island in Munnakkaraya. What made her stand out was her statement on the reduction of forest cover in the Gampaha District and that people would have less oxygen to breathe. Following the incident, Ms. Jayathilaka's statement was supported and praised by several Cabinet ministers and a majority of citizens. However, during a recent visit to the area, Daily Mirror learnt that the matter was not limited to conserving mangroves or constructing a playground.

Area residents claim that they will lose the remaining mangrove forests in time to come

BATTLE AGAINST POWER AND MONEY
Munnakkaraya in the Negombo division is home to a fishing community with one school for children in the area. As many as 740 children study here and for many years, they have had a tiny space to play within the school premises. As children in this area have become vulnerable to drug abuse as a result of existing social issues, residents in the area claim that a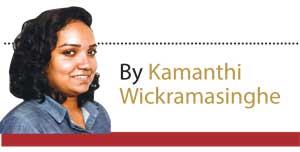 playground would help them to stay away from such addictions. But during a meeting held on February 10, Ms. Jayathilaka openly objected to the construction of this playground saying there was only 1.6% of forest cover to the entire Gampaha District. In the video that went viral on social media, a person countered Ms. Jayathilaka's argument expressing concerns over the use of having oxygen when children were getting addicted to drugs.
This however created a tense situation among residents in the area while another section of the society praised the courage of the government officer. During our visit for Munnakkaraya, Daily Mirror learnt the vulnerabilities of children and how excited they are to have a playground to themselves. However, an underlying issue that would soon surface is the plan to construct a vehicle park for an existing hotel project that operates a few metres away from Rajina island. The hotel is owned by a popular businessman-politician who has befriended both the 'green' and 'blue' parties. The Daily Mirror also witnessed how mangroves had been cut to construct the hotel project while several small-scale dried fish stalls have been erected on the banks of the Negombo lagoon. Residents also claimed that this businessman brought down monkeys and other animals that wouldn't survive in a mangrove forest as means of attracting tourists.
"Devanee is trying to give an impression that the mangroves were cut yesterday and the ground made overnight. But this island has been in existence ever since we were born - Manuel Fernando"
WHO OWNS THE LAND?
Daily Mirror learnt that on November 22, 1990, the said land had been gazetted for a State fisheries project but the hotel owner drafted a deed in 2003 to acquire the land and no action has been taken yet. Meanwhile, the Forest Department claimed that the land belonged to it but a letter issued by it states that the island was yet to be gazetted as part of the Kadolkele mangrove forest reserve. This, therefore, raises concerns as to whom the land rightfully belongs to.
"We never said we don't want oxygen," opined Munnakkara Fisheries Union President Manuel Fernando. "One person in the video questions about the use of having oxygen when children were getting addicted to drugs and other substance abuse. Devanee is trying to give an impression that the mangroves were cut yesterday and the ground made overnight. But this island has been in existence ever since we were born. In 2010, there was a project to develop the Negombo lagoon and for that purpose sand was dredged and brought to this islet. We then asked the District Secretary to convince relevant authorities to fill this land and make it a suitable place for children to play. We received a letter from the Environment Ministry stating that this island is yet to be gazetted as part of the Kadolkele mangrove. If it had not been gazetted, how can the forest officer claim ownership of it? The letter further states that the island is surrounded by water and children have a risk of utilising it as they have to travel by boat to reach the playground, if constructed there. This is our hometown and it is surrounded by water but no child had drowned so far."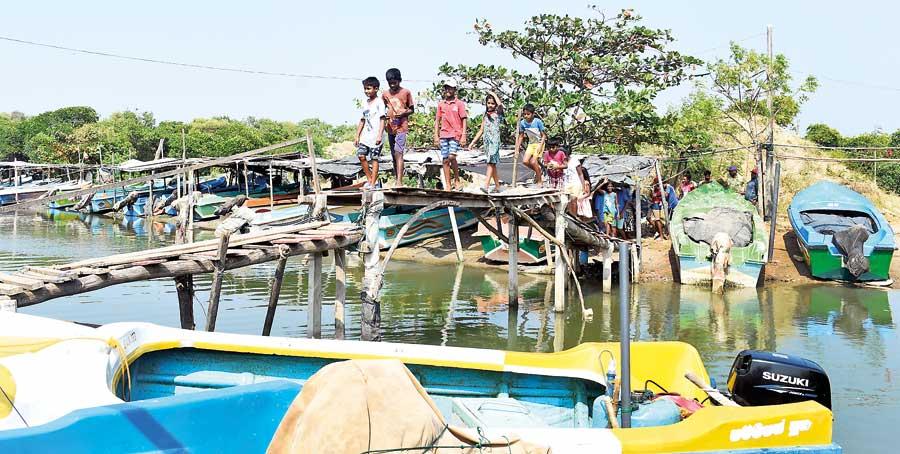 A makeshift bridge has been put up by the residents to reach the island - Pics by Nimalsiri Edirisinghe
TENSION BUILDING TOWARDS A PRIVATE HOTEL PROJECT
"There had been a cadet camp in this islet some 30 years ago," recalled Chaminda Perera, a resident in the area. "How could there be a cadet camp inside a mangrove forest? Initially, there were two big potholes in the islet. During the lagoon development project, sand dredged from the main lagoon was brought to this land and eventually the two potholes were filled and the children were utilising it thereafter. For the past two years, students of St. Nicholas College in Munnakkaraya haven't had a sports-meet. After this incident, the entire community got together. Also, Devanee is trying to bring down all houses bordering the islet and plant mangroves. How ridiculous is that? If they were objecting the construction of this playground, why couldn't they object the construction of the hotel inside the main mangrove forest? The hotel owner is now aiming to acquire this island and convert it to the hotel car park.
When the hotel was being constructed, the entire community objected and there are people who were attacked as well. Even if there were mangroves and oxygen, if children are addicted to drugs, what's the point of having oxygen? Around 740 children have a tiny space to play inside the school premises. The former Fisheries Minister developed the ground so that people could use it. Can't the forest officer stop the hotel project and plant mangroves there as well? Until sand is removed, she is not signing relevant documents to continue the project."
FISHERMEN PLEDGE TO PROTECT MANGROVES
"The waste from this hotel gets collected in the lagoon," complained Mahesh Appuhamy, a fisherman in the area. "Fishermen faced many challenges when this project commenced operations. Prawns lay eggs inside mangrove roots and protect small fish. This is why we try to protect mangrove forests. This area didn't feel the impact of the tsunami because of mangrove forests. We want them to give us the land for the sake of the children and we will protect the mangroves."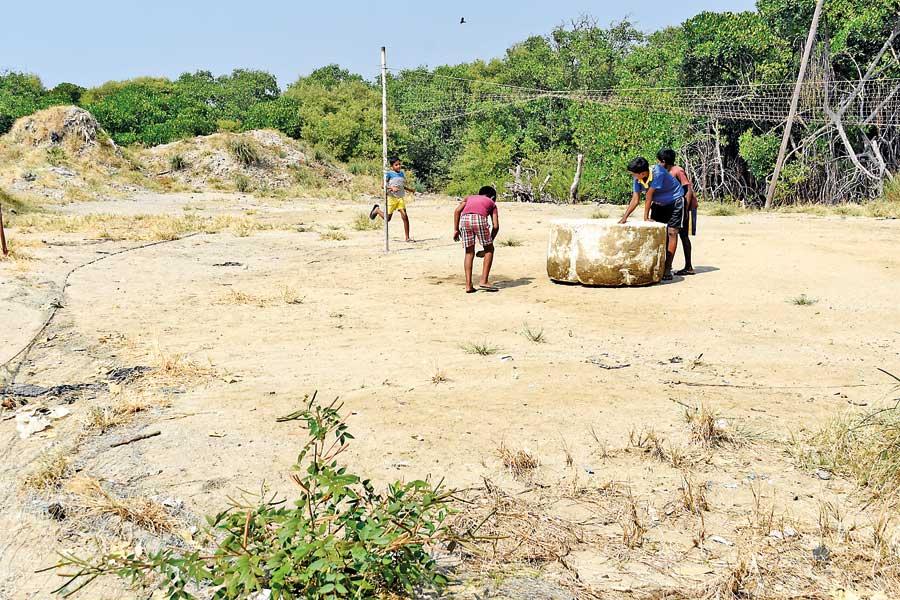 The playground at Rajina island has been the only space for children to play
LAGOON DEVELOPMENT PROJECT CONTINUES
In his comments, State Minister of Fisheries and Inland Fisheries Industry Sanath Nishantha said the government would continue the existing project. "It is a Rs.3 billion investment and includes everything from constructing bridges to planting mangroves. Through this project, 34 lagoons will be developed. The project was halted due to various interdepartmental conflicts but we commenced it again. Meanwhile, a popular businessman in the area claims that the land belongs to him. Due to waste being accumulated in the lagoon, a layer of dirt has been formed at its base. This increases pH and eventually forms ammonia which is toxic to aquatic species. Mangroves too have the ability to absorb carbon dioxide. Hence, I am well-aware of its uses but we need to develop these areas for the benefit of fishermen, tourism and related industries."
WHY MANGROVES NEED TO BE PROTECTED…
"Mangroves are special ecosystems that act as the buffer between marine and freshwater ecosystems," opined Dr. Ranil Senanayake, a renowned systems ecologist who introduced the analog forestry concept to Sri Lanka. "They are very effective in building up their soil levels through the control of erosion silt. They trap silt coming downstream and bind it to soil thus developing a unique ability to physically grow the level of soil they are growing in. This feature should be kept in mind when planning for sea level rise. One lesson learnt from the tsunami was that parts of the coast, protected by mangrove, were least affected."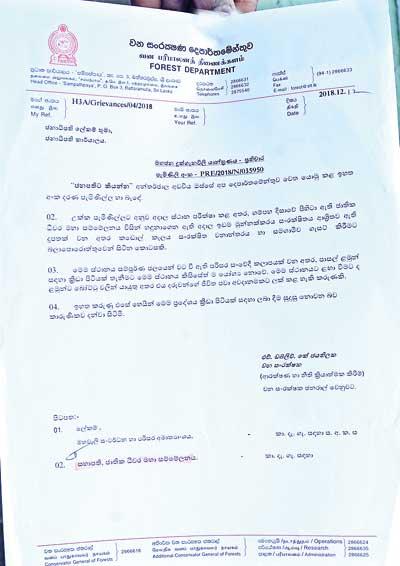 A letter issued by the Forest Department which states that the island is yet to be gazetted as a mangrove reserve

He said mangroves were some of the most productive ecosystems on this planet and acted as nursery for marine species and habitat for estuarine species. "They create complex estuarine ecosystems that serve as a nursery ground for many species of fish and crustaceans. Mangroves trap organic sediments in anoxic layers beneath their roots, slowing decomposition and acting as a long-term carbon sink. As mangroves are salt tolerant and have many economic uses, they are an important component of how we could adapt to sea level rise. Rising sea levels will create saltwater intrusion into agricultural areas. As these areas become increasingly salinated, the choice for owners will be to stay with no crop or join the ever-increasing ranks of environmental refugees. Mangroves have the potential to offer salt tolerant options so that owners of salinated lands have a secure option to stay," he said.
Talking about its uses to marine species, Dr. Senanayake opined that many marine species did not attain adult form after hatching from the egg. "They go through many larval stages by which time they are vulnerable to predation and weather. Mangroves with their complex network of roots covered with blooms of microorganisms and algae offer both food and shelter to larval organisms. Without coastal mangroves to act as nurseries for nearshore marine fishery, many species of fish such as Red Snapper, Barramundi, Grey Mullet as well as prawns and crabs will suffer falling populations. Mangroves also trap the silt and sediment that come down rivers if these sediments are allowed to pollute nearshore areas where coral reefs form. With any increase in the discharge of sediments from river systems, the formation or sustainability of coral reefs will be lost.
"Through this project, 34 lagoons will be developed. The project was halted due to various interdepartmental conflicts but we commenced it again. Meanwhile, a popular businessman in the area claims that
the land belongs to him - Sanath Nishantha"

"Mangrove roots are also known as 'breathing roots' as they carry out some important functions. Mangrove roots are unique in the sense that they have learnt to obtain oxygen from the air because mangroves grow in heavy sediment packed soils which lack oxygen. They have adapted by growing roots that are stilt roots that grow above the sediment or knee roots that rise above the level of the sediment. These roots are short-lived and shed by the tree as they grow above the collected sediment. The roots and sediment they have trapped sink into the anoxic or oxygen deficient zone below where they stay without decomposition for a long time. In this manner, the complex web of mangrove roots does not only provide habitat but also act as a large carbon store. Further, this complex interwoven physical mass offers a huge surface area for bacterial colonisation. This mass of surface bacteria provides the energy to support diverse species that depend on the ecosystem. Stilt roots of large red mangroves create a storm surge buffering barrier that protects land from sudden oceanic wave surgeries."
Adding his thoughts to the negative impacts of cutting down mangroves, he said when mangroves were cut down, a series of negative actions were put into play, where the sensitive, important mangrove root ecosystem that created and held the mangrove soils became exposed to erosion.
"The action of 'building up' soils will cease and the ocean will slowly begin to erode the barrier and move inland. The microhabitats that supported the larvae of marine species are no more. Estuarine and marine will suffer. Breeding areas of the famous 'Lagoon Crab' as well as the Tiger prawn will be destroyed thus reducing the population of these commercially-important species. The habitats of valuable aquarium fish such as Scatophagus and Monodactylus will be gone thereby bringing much losses to the export trade. Commercial molluscs such as oyster, clam and mussel will not have any habitat to occupy and that fishery too will be lost," he said.
"Mangroves are special ecosystems that act as the buffer between marine and freshwater ecosystems. They are very effective in building up their soil levels through the control of erosion silt - Dr. Ranil Senanayake"

Mangroves also provide a huge source of nectar for bees that not only provide honey but also are critical pollinators of adjacent forests and farms. Mangroves harbour a massive wealth of biodiversity. The term 'mangrove' is not restricted to one species. It encompasses trees, shrubs, climbers, ferns and palms. About 54 species in 20 genera from 16 families constitute "true mangroves" species that occur almost exclusively in mangrove habitats. Bearing in mind that all these plants support their own dependent network of animals, the loss of biodiversity with the loss of mangrove forests is huge and irreplaceable.
The birds supported by mangrove ecosystems are huge and range from waders to kingfishers and sunbirds. Mature mangroves with bamboos support the fast-disappearing Lowland Loris among many other mammals.
"The current activity of replanting mangroves is restricted to a few species of Rhizophoraor Bruguiera because they are the easiest species to plant. Just poke a 'seed' into the mud and it grows! This has resulted in mangrove replanting programmes to produce huge monocultures on mangroves. It should be borne in mind that mangrove barriers consist of a group of plants, all adapted to euryhaline conditions which have developed complex ecological relations with each other. The mix of species in Sri Lanka is usually Avicennia, Rhizophora, Sonneratia, Kandelia, Ceriops, Bruguiera, Aegiceras, Lumnitzera and Nipa. Then, further into the freshwater realm species of Cebera, Barringtoniaand bamboos are added to the mix. When a diversity of over 50 species defines a natural mangrove forest, replanting should look at building up the biodiversity of new planting at the same time as we build up the biomass," he said.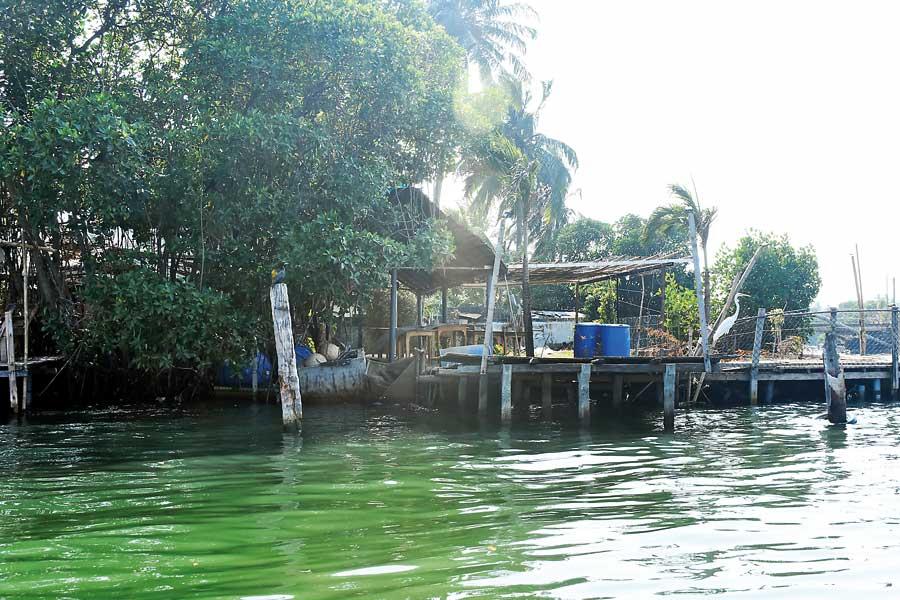 Private dried fish stalls along the Negombo lagoon constructed after cutting down mangroves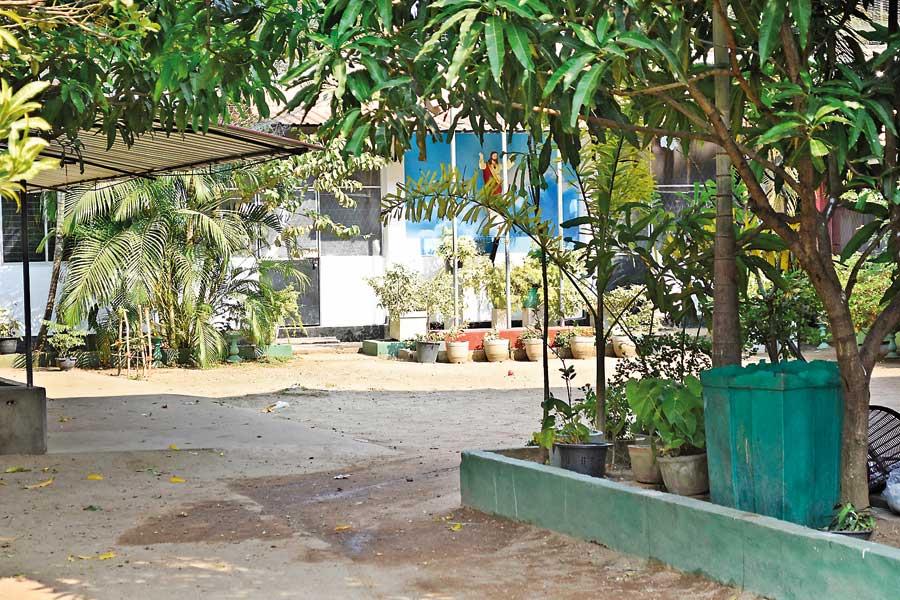 Around 740 students at St. Nicholas College utilise this small space as their play area