---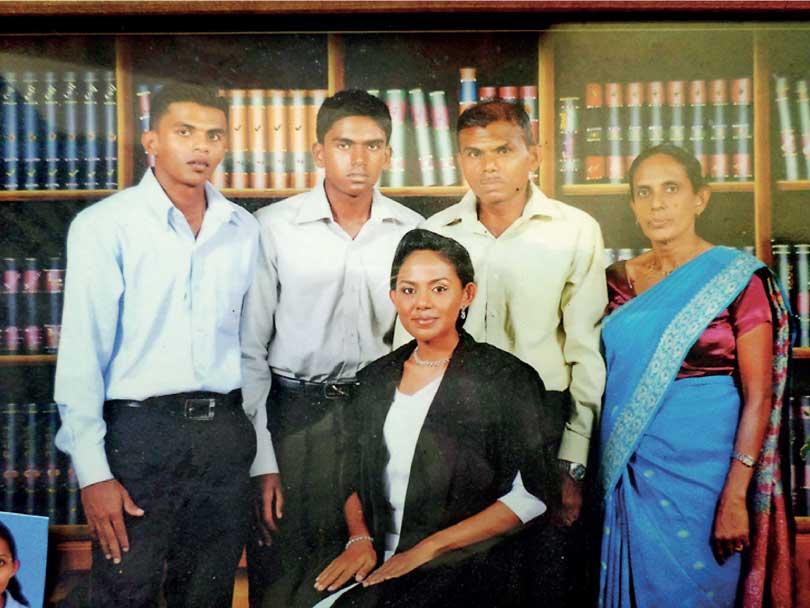 A photograph of Pasindu's family taken on the day his sister took oaths as a lawyer. Pasindu is seen second from left.

Dark days have returned to the local university system as Pasindu Hirushan lies beside a life-support system, struggling to win life over death. Although the student union vehemently denied it was a ragging episode, passing a tyre down a staircase and severely injuring another fellow student is no joke! Repeated incidents of ragging keep making headlines while authorities turn a blind eye. Repercussions of student politics seem to be taking a toll on those who enter university with high expectations of succeeding in life.
BATTLE BETWEEN LIFE AND DEATH
21-year-old J.A Pasindu Hirushan from Kamaragoda in Minuwangoda is a student attached to the Sri Jayewardenepura University (USJP) Management Faculty. After the freshers party on March 5, he had been ascending the staircase of the university playground pavillion when a group of seniors have sent a tyre downstairs. It had eventually hit his chest. What followed was Pasindu collapsing on the ground causing severe damage to his head. According to his father, the seniors were under the influence of alcohol.
"My son studied at St. Peter's College, Udugampola," said Pasindu's father Augustine Silva. "I earned a living from farming. He passed O/Ls with flying colours and did A/Ls in the commerce stream. It was only my son and his friend who managed to get 3As from the school. He used to conduct tuition classes and was quite popular in the area. My wife passed away when Pasindu was preparing for A/Ls. He sat for the exam after the seven-day memorial service. I'm proud that he passed A/Ls with all the stress. He had been attending university since December 2019. He lived on rent and came home over the weekends. The week before last, he came home on Friday and left on Sunday. He said he would come back the next Friday but it was on that day we got to know about this ghastly incident. By the time we made it to the hospital, a surgery was already performed. My son had been talking to a friend on the phone when the incident had taken place. University officials said, as previous years, they granted permission for this party this time too. When questioned, they informed me that students brought alcohol undercover," he said.
As Pasindu struggles on life-support, his father urges the President and Prime Minister to look into this matter and bring about stringent laws to end university ragging.
PASINDU IN CRITICAL CONDITION
According to hospital sources, there is internal haemorrhage. "Doctors say even if he recovers, he will experience many side effects including loss of memory," said Lakmal Silva, Pasindu's brother. "Right now, he is paralaysed." Sources confirmed that Pasindu was fixed to a machine and that he was in critical condition at the time this article was penned.
UGC KEEN ON COMPREHENSIVE PROBE
Apart from funding State universities, the University Grants Commission (UGC) is responsible of providing a secure atmosphere. With repeated incidents of ragging, the UGC took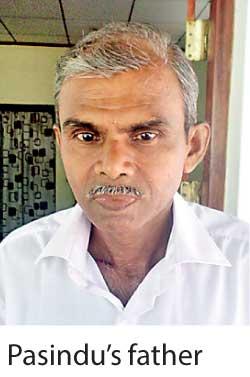 measures to introduce a ragging portal in 2017 where students could lodge complaints. Even with such a mechanism in place, these incidents have aggravated.
"This is a pathetic situation as it happened within the university premises," opined UGC Chairman Prof. Sampath Amaratunge. "We need to provide adequate protection within our boundaries. We have informed the police that we are going to fully support a thorough investigation. The incident has happened late at night or early morning. Although there are no CCTV cameras in the playground, there are cameras at the main gate. Therefore, those who left the premises could be spotted. There needs to be clear evidence about everybody as they need to be identified.
We are responsible for students. Parents send their children because we assume responsibility. These incidents should be reduced to zero. CCTV cameras at Kelaniya University were taken down so that whatever happens within the university premises could be hidden from the public. It had been the security and a few university students who had first taken him to Kalubowila Hospital. The names of these perpetrators should be given to relevant authorities. The President and Prime Minister are concerned over these incidents."
However, the SJP Student Union denied this was an incident of ragging. When asked about its stance, Prof. Amaratunge said he would not rely on one party. "We have one of the best intelligence services in the country and we will need their support."
Speaking on the progress of the ragging complaints portal, Prof. Amaratunge said there were various discrepancies in complaints. "Sometimes we cannot find the person who has been accused. However, university authorities, students and the academia should get involved in bringing down these incidents to zero."
INVESTIGATIONS ONGOING
The Mirihana Police Crimes Division is conducting investigations and will present evidence at the Nugegoda Magistrate's Court.
YET TO ASCERTAIN IF STUDENTS WERE UNDER THE INFLUENCE OF LIQUOR
Speaking to Daily Mirror, the USJP's proctor and senior lecturer Udayakumara Amarasinghe said the incident had taken place during an unofficial party organised by the students. "They haven't sought approval from the university to host this party. Many freshers, sophomores and juniors have been there. According to eyewitness testimony, Pasindu has been ascending the steps to the playground's pavilion when another student had pushed a tyre down. When it hit his chest, he had fallen backwards, striking his head on the staircase. It had happened at 1:20 a.m. The security had taken immediate measures to take him to the Kalubowila Hospital. Since the injuries were too severe, he had then been transferred to the Colombo National Hospital. We are yet to confirm if the students were under the influence of liquor and if they were seniors."
When asked about CCTV footage, he said surveillance cameras weren't installed in the area where the incident took place.
RISE OF SADISTIC CULTURE
After completing A/Ls, students expect university entrance. Although the free education system was supposed to benefit a larger group of young brains, the corrupt and highly-politicised system results in brain drain. This comes about with incidents such as ragging. Ragging began as a harmless way of familiarising newcomers to the university culture. From thela-bedeema (process of indoctrination) to keta-helleema (shaking tills), the matter aggravated to a point where pipes were squeezed down buttocks and students were sexually abused. Hence, a culture that got new university entrants to sing, dance and do harmless rituals aggravated to a life-threatening one, at times resulting in death. Records of students committing suicide to escape horrible encounters are numerous. Cases filed to serve justice to students such as S. Varapragash and Rupa Rathnaseeli may have gathered dust.
It is quite questionable as to how such incidents happen in broad daylight within a system that includes a large number of proctors, wardens, teachers, unions and the academia. It had been a known fact that the People's Liberation Front (JVP) used these methods to systematically increase their cadres. Once JVP's political inheritors like FSP broke away in 2012, they gained monopoly and took over the Inter-University Student Federation (IUSF). However, if one observes records of deaths, there have been no incidents between 2002 and 2014. But once the FSP took control over student politics, cases of ragging have had an exponential increase.
Additional reporting and pix by Pushpakumara Mallawarachchi