---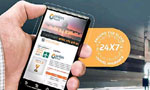 Union Assurance has continuously brought the highest international standards of quality to its customers, and is continuing to do so by introducing an online purchasing option for its revolutionary Union Motor Reload and the Union Travel Insurance products.Union Motor Reload is a motor insurance policy that you can purchase according to your requirement, from 3, 6, to 12-month periods. Further to the convenience, it provides you with more control over your vehicle insurance expenditure.

The Union Motor Reload product also comes with an unparalleled standard of service for the user, offering a range of benefits that include access to Speed Cash – a unique and convenient way to get cash on hand in an emergency from the closest Commercial Bank with a single SMS from UA; 24 hour Island-wide accident inspection service and helpline; SMS notifications on all transactions; and facility to obtain revenue license online for western province vehicles via the union assurance website. Union Travel online, gives you the option of obtaining your travel insurance (even when you are on your way to the airport!) irrespective of the time of the day.

Union Motor Reload's online option gives access to purchase vehicle insurance all day, everyday – making it the perfect choice for an individual with a busy lifestyle. The user interface on the system is easy enough to allow the technological novice easy access, and sophisticated enough to allow the tech savvy user to get a complete and fulfilling experience. Gone are the days when you had to make a special trip to the closest physical location to update your vehicle insurance, today the closest branch is as nearby as your smartphone or computer .

Further to make access to UA service even easier – the Union Motor App – which is available to download on your smartphone, allows quick and easy access to your account. You can check your balances and updates, as The Union Motor App is the smartest and most convenient way to keep track of your insurance.

General Manager – Corporate, at Union Assurance, Niranjan Nagendra stated, "UA is constantly updating its user interfaces and image to present our best, most convenient service to our customers. In this day and age where technology is at our finger tips , we need to capitalize on the convenience factor and take that to our valuable end customer . Enrich his experience . This is another step in making our customers feel like they're getting the best from their preferred Insurance partner."
In recognition of its efforts to bring the utmost convenience and world-class service standards to its customers here in Sri Lanka, Union Assurance was recently awarded the prestigious title of 'Service Brand of the Year – Silver Award ' at the SLIM 2014 awards ceremony – making this the 3rd consecutive year the brand was awarded the same honour.