---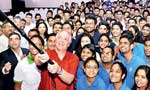 Unilever CEO Paul Polman who is on a two-day business visit to Sri Lanka has commended the business here for its outstanding performance and potential for long-term profitable and sustainable growth.

He highlighted Unilever Sri Lanka's positive contribution as a key emerging market within Unilever. Polman made these observations during an official visit of the Sri Lankan business which concluded on November 28th.Addressing Unilever Sri Lanka's employees at a town hall event held at the Cinnamon Grand Hotel, Polman reiterated Unilever's commitment to the Sri Lankan business, and acknowledged his appreciation of the company's efforts to deliver strong growth in 2014. He further stated, "Despite various challenges in the past few years, I am delighted to see the success of Unilever Sri Lanka in 2014, which also reflects the high potential for business development in Sri Lanka".

This was Polman's second visit to Sri Lanka in two years, having paid his first visit to the country in November 2012, when he inaugurated Unilever Sri Lanka's state-ofthe-art manufacturing facility in the Export Processing Zone in Horana.During his latest visit, Polman attended a Youth Forum, addressing 150 university students on the topic of "Sustainability in Leadership". Polman emphasized that young people must have a clear sense of purpose, build strong partnerships, plan for the long-term, and put the interests of others ahead of their own, in order to create a difference, and become agents for positive change, in a country that is poised on the threshold of exponential growth. Polman also attended a meeting with key government officials and industry leaders, including Dr. Sarath Amunugama, Faizer Mustapha, Ajith Nivaard Cabraal, K. Kanag-Isvaran, and Sohli Captain, along with Executive Vice President for Unilever SouthAsia, Sanjiv Mehta, and Unilever Sri Lanka Chairperson, Shazia Syed. This provided him the opportunity to discuss the current economic and business climate of the nation, and shareUnilever's plans for the future with some of the key stakeholders in the country.
Speaking on Polman's visit, Unilever Sri Lanka Chairperson, Shazia Syed, stated, "We are thrilled to host Paul in Sri Lanka, and have him see firsthand the great strides we have taken in our journey towards profitable, competitive, and sustainable growth in Sri Lanka. Unilever has been present in Sri Lanka for the last 75 years, Paul's visit and support extended to our team here, makes us confident that we will only grow from strength to strength in this country in years to come."