---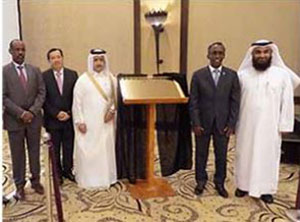 DJIBOUTI – Qatar Airways has continued its expansion in Africa with the launch of services to its latest destination, Djibouti, which began this week.
The five-star airline commenced the three-times-weekly flights from Doha's Hamad International Airport to Djibouti–Ambouli International Airport, marking the airline's 145th global destination.

Djibouti's Minister of Transport and Equipment, His Excellency Moussa Ahmad Hassan, second from left, presents Qatar Airways Vice President Africa Jared Lee with a gift during a corporate lunch commemorating the launch of the airline's direct flights to Djibouti in Africa.
Addressing Ministers, Ambassadors, Government officials and travel trade partners during the inaugural event in Djibouti, Qatar Airways Vice President Africa Jared Lee, said: "Qatar Airways is proud to be the first five-star airline connecting Djibouti to popular business and leisure destinations across the Middle East, Europe, Asia, Australia and the Americas.
"Djibouti presents a great opportunity as the country has huge appeal for many with its wealth of natural resources and tourist attractions.
"Qatar Airways is delighted to give business travellers and tourists who wish to visit Djibouti, and also the people of Djibouti, an additional route to and from this destination."
Tourist attractions in Djibouti include scuba diving, snorkeling and picturesque beaches.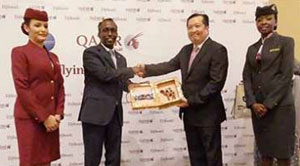 Qatar Airways celebrated the launch of its new route with a community initiative that supports the building of an elementary school – "Al Amal" in Djibouti. The airline has joined hands with the RAF Foundation of Qatar for this initiative.Alongside the incredible growth of Qatar Airways, the airline has a dedicated Corporate Social Responsibility programme that continuously supports local community initiatives.
With the new school in Djibouti, Qatar Airways will be contributing to the Djiboutian community, helping to provide children with educational opportunities and assisting them to become valued members of the global community.
The three-times-weekly non-stop flight to Djibouti is part of Qatar Airways' expansion plans to introduce new routes, new frequencies to existing markets, and induct new aircraft into its growing fleet.
In September last year, Qatar Airways launched thrice-weekly operations to neighbouring Ethiopia, and this will soon be joined in December this year by a route to the Eritrean capital of Asmara.
As an airline with an ever-expanding global network of 145 destinations and 137 aircraft, Qatar Airways fulfils the needs of the African travelling public, as well as those wishing to travel to the continent from other destinations around the world.
The Doha–Djibouti route will be served with an Airbus A320 featuring up to 12 seats in Business Class and up to 132 seats in Economy. Key markets for Djibouti include London, Paris, Tokyo, Berlin and New York.
The DOHA – DJIBOUTI schedules are:
Wednesdays, Fridays and Sundays
Depart Doha QR1437 at 0010 hrs, arrive Djibouti at 0255 hrs
Depart Djibouti QR1438 at 0355 hrs, arrive Doha at 0700 hrs
Qatar Airways is one of the fastest growing airlines operating one of the youngest fleets in the world. Now in its 17th year of operations, Qatar Airways has a modern fleet of 137 aircraft flying to 145 key business and leisure destinations across six continents.