---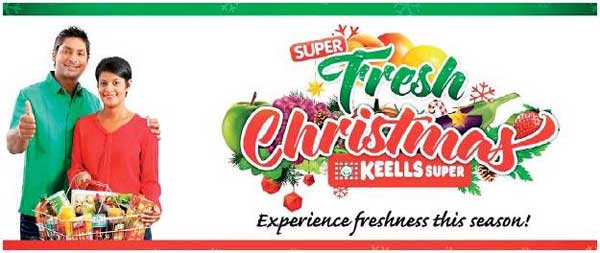 Keells Super supermarket chain is offering customers all that they require for the festive season under one roof.The mega promotional campaign was launched on November 15th to enable customers to get the best savings and festive products as they make preparations to celebrate with family and friends.

The Super Fresh Christmas theme is to inform customers that Keells Super has a freshly picked range of veggies and fruits during the season in addition to the most fresh meats and fish and freshly baked Christmas goodies. As such customers can expect a Super Fresh Christmas at Keells Super.Keells Super customers are also in for 'Fabulous Rewards" throughout t he festive period. An Airline Ticket a day from Jet Airways is being offered to reward shoppers at Keells Super. Customers have to just select 3 nominated "Super Brands" and they are eligible to win an airline ticket daily. The unique feature is t hat customers get t o select the destination of their choice. The destinations being Dubai, Singapore, Bangkok and India. In total 47 Airline tickets are being given away.

Great savings are offered t o Keells Super customers with unbeatable discounts. Keells Super's Nexus Mobile Loyalty customers will receive a fabulous 25% off on 70 key essentials and on popular products purchased during the festive season. Selected brands of key essential items such as canned fish, vegetable oil, seasoning, noodles to essential personal care and household items such as toothpaste to washing powder are on 25% savings t o customers. Biscuits, cheese, cordials, juices, jams and sauces and a wide range of items are on offer to ensure Keells Super customers receive massive savings when they shop at Keells Super. Overall more than 600 products are on discounts at Keells Super during the festive period.

Furthermore, there are great savings for Credit Card holders. American Express Credit Card Holders will receive 20% savings on vegetables every Friday, Saturday and Sunday until end December for bills over Rs.2000.HSBC Credit cardholders too get rewarded for specific products at Keells Super.Apart from all these great offers, a range of exclusive meat products are also available at Keells Super which is known to offer quality Keells meat products.
The range includes Turkey, Roast Turkey, Duck, Roast Chicken and a range of Hams and Sausages to enjoy with your loved ones this holiday season.
The Keells Super Bakery which is at 23 outlets has delicious Christmas cakes, Yule lo g , Br e u d h e r, Christmas pudding and many more festive treats. The famous Keells Super Christmas cakes will be available at all Keells Super outlets.Keells Super hampers which are known to have the best mix of goodies range from Rs 2,999 to Rs.115,499 and Gift vouchers also available for sale at all Keells Super outlets.Keells Super has been in operation in the country for more than 20 years.