---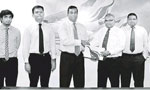 FlySmiLes, the national carrier's frequent flyer programme, and Sri Lanka's acclaimed domestic air services provider, Cinnamon Air, entered into a partnership that allows the FlySmiLes members to earn and redeem miles when flying with CinnamonAir.Cinnamon Air Director Romesh David said, "A successful and thriving association with the national carrier, SriLankan Airlines will be a cornerstone of the success of the scheduled domestic air services operated by Cinnamon Air and the launch of codeshare services with SriLankan from the very outset of our operations embodies this.One year on, we are delighted that our agreement with FlySmiLes, the frequent flyer programme of SriLankan, which allows members to earn and burn miles on Cinnamon Air domestic flights, is an important extension of this association and more importantly, one that provides even greater value to our customers. We look forward to welcoming FlySmiLes members aboard CinnamonAir."

SriLankan Airlines Head of Commercial Operations Fazeel Mohamed said, "FlySmiLes considers Cinnamon Air as an important strategic partner, whereby our members can book and purchase SriLankan Airlines ticket, worldwide to travel domestic sectors operated by our partner Cinnamon Air. With the new tie up, we are confident that our FlySmiLes members will have more reasons to explore the beauty of the country by air, whilst earning/redeeming miles."
As an introductory offer, Cinnamon Air will be offering a 50 percent discount exclusively for FlySmiLes members who redeem their miles on Cinnamon Air tickets on scheduled flights till December 20, 2014.

FlySmiLes offers its members an extensive range of benefits, with the airline's induction to the oneworld airline alliance in May this year. FlySmiLes is made up of five tiers: Platinum, Gold, Classic, Silver and Blue. FlySmiLes Club, the top tier frequent flyer categories, comprised of Platinum, Classic and Gold, are matched with the corresponding oneworld top tiers.Together with oneworld, FlySmiLes members can now enjoy access to over 600 lounges in over 150 airports and connections to almost 1000 destinations across the globe on any oneworld member carrier while enjoying free tickets, upgrades, lounge access, additional luggage allowances, pre-assigned seating and priority confirmation when flying SriLankan.With its line-up of airline and non-airline associates ranging from hospitality, retail and transportation partners, FlySmiLes continues to reward its loyal customers with more opportunities to earn and redeem miles.Cinnamon Air, Sri Lanka's premier domestic airline, operates from its dedicated domestic terminal at Bandaranaike International Airport, Colombo and the Colombo City Water Aerodrome (Waters Edge, Kotte) to destinations around Sri Lanka.

Cinnamon Air operates daily scheduled flights (over 80 scheduled flights a week) to Colombo (Waters Edge and Bandaranaike International Airport), Kandy, Batticaloa, Trincomalee, Dickwella, Koggala, Bentota and Sigiriya with a plan to expand its network to include destinations such as Nuwara Eliya and Kalpitiya. The flight times of Cinnamon Air's daily scheduled flights are synchronized with the arrival and departure times of major international airlines.
Sri Lanka's national carrier, SriLankan Airlines and Cinnamon Air entered into a codeshare agreement on all Cinnamon Air scheduled flights within Sri Lanka. Consequently, all Cinnamon Air scheduled flights operate with a SriLankan Airlines' (UL) designated flight number as well as a Cinnamon Air (C7) flight number.

UL designated flights will thereby be available for sale on the SriLankan website, through all SriLankan offices and agents in Sri Lanka and around the world and through all Global Distribution Systems (GDS) that SriLankan participates in. Cinnamon Air has branded one of its two Cessna 208 Amphibian aircraft with the SriLankan Air Taxi livery.