---
SriLankan Airlines, the national carrier of Sri Lanka and a member of the oneworld alliance, in a move to meet increasing demands for air services between China and Sri Lanka, will be initiating operations to Kunming on December 1, 2014, the company said in a statement.

SriLankan operates a total of 15 weekly flights to Beijing, Shanghai, Canton and Hong Kong and with this initiative, will be marking its presence in South-western China as well.Known as "the City of Eternal Spring," Kunming is the capital and the largest city in Yunnan Province of South West China.
The city is home to several universities, museums, galleries and other important economic, cultural, and educational institutions, making it a popular destination among both leisure and business travellers.

"SriLankan Airlines has always viewed the Far East as one of its priority markets where a gradual increase in the number of tourists seeking Sri Lanka for holidaying has driven the airline to look into more expansion opportunities to cater to the growing demand as well as to motivate more travellers from both countries to explore the beauty of the two destinations." SriLankan Airlines, Chief Executive Officer Kapila Chandrasena said.

"China is very much part of the long term strategy of SriLankan to evolve its network. In addition to our scheduled operations to China, SriLankan currently operates a weekly charter flight to Chongqing which will continue till midDecember until we resume operations in January next year," he added.
This addition of a new destination will benefit the passengers who are seeking onward connections to Middle East, India and the Maldives. With 40 flights a week to 8 Middle Eastern cities, 88 weekly flights to seven Indian destinations and 36 weekly frequencies to Male, SriLankan passengers can now enjoy seamless connectivity from Colombo.SriLankan's codeshare services to the Seychelles with its sister carrier, Mihin Lanka also provides a greater convenience for the leisure travellers.
Having welcomed the one millionth Chinese tourist to the island in September this year, Sri Lanka sees a clear increase in numbers of Chinese travellers arriving in the country compared to last year. According to Sri Lanka Tourism statistics, from January to October this year, Sri Lanka has received 106,888 tourists from China, which is a 139 percent increase year-on-year.

Elaborating further on the Airlines' expansion plans, Chandrasena added, "SriLankan had operated Charter flights to Kunming in the past, and this initiative comes into being after various evaluations and many tourism promotional activities conducted in the region by the Sri Lanka Tourism Promotion Bureau."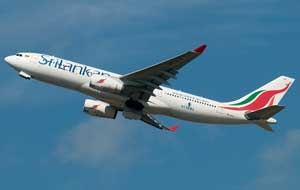 With 54,000 Chinese travellers choosing the national carrier to travel to the island in 2013, the airline, due to the high demand from the sector, expects a total of 120,000140,000 Chinese travellers to visit and experience the country by the end of this year.For the first four months ending 30 April, the number of travellers from China to Sri Lanka on SriLankan Airlines was 36,000. Accordingly, SriLankan will be operating three weekly flights, departing Colombo on Monday, Wednesday and Friday at 1835 hrs, and arriving in Kunming at 0150 hrs.The flight will depart Kunming at 0255 hrs to arrive in Colombo at 0545 hrs. Passengers will also get the opportunity to enjoy the relaxing ambience and easy reclining seating on board SriLankan Airlines'A320 aircraft that will be operated on the route.In April this year, SriLankan Airlines started operating eight direct flights a week to Beijing and Shanghai and out of which four flights operate via the Mattala Rajapaksa International Airport.