---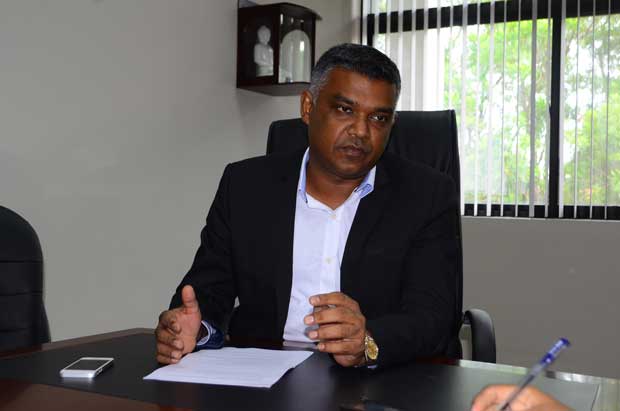 By Kamanthi Wickramasinghe
State Pharmaceuticals Manufacturing Corporation (SPMC) has been a local manufacturer of high-quality essential drugs in Sri Lanka for the past few decades and as some of its main functions, the SPMC is involved in the manufacturing, processing, stocking, packing and repacking of drugs, marketing of pharmaceuticals and provision of technical assistance for the manufacturing and processing of drugs. In an interview with Mirror Business, SPMC Chairman Dr. Sayuru Samarasundera shared his views on where SPMC stands now, what achievements it has accomplished over the years and future improvements. Following are the excerpts:


When was SPMC established and where does it stand today?
We started in 1987 as a fulfilment of one of Professor Senaka Bibile's dreams to establish a government-owned organisation to produce high-quality drugs for Sri Lankans at affordable prices. Today we are the largest manufacturing arm of pharmaceuticals in the country and we specialize in manufacturing tablets and capsules required by government hospitals and the public. These include a large number of general drugs and antibiotics. SPMC is an outright gift granted by the Government of Japan to Sri Lanka as a token of friendship and cooperation between Japan and Sri Lanka through the Japan International Cooperation Agency (JICA).


How has the capacity increased over the last 22 years?
Currently there are 250 employees at this plant. SPMC is planning to come up with three to four manufacturing plants in the coming four years and we have encouraged private-public partnerships and joint ventures to increase the production capacity and produce new drugs. When we started in 1987, the annual set target was only 550 million units but today it stands above two billion units per year.


What are the new developments that have been planned specially through the 'JICA Project'?
Ever since the establishment of SPMC, the JICA has extended its cooperation by granting spare parts required to the value of about Rs.10 million twice in 1991 and 1996. We have also started to do an expansion project amounting to EUR 11 million by the end of 2017. Through this project we are going to bring in new manufacturing machines, refurbish the production zone and construct the stores building with the intention of enhancing the production capacity up to 4,000 million (four billion) tablets and capsules per annum to meet with the pharmaceuticals requirement of Sri Lanka.


How can the private sector get involved in this venture?
Any private manufacturing company can partner with SPMC with a long-term buy back guarantee to produce any pharmaceutical product in keeping with the government policy. If we could produce high-value drugs in Sri Lanka through these private-public partnerships or joint ventures, they would surely cut down on the large foreign exchange spent on imports and also make way for local companies to be part of the pharmaceutical industry. In addition to that it will also develop itself for exports and be part of the global pharmaceutical market with time. As we all know, the pharmaceutical industry is one of the biggest industries in the world and we, in Sri Lanka, should also work on being part of this, like India and Bangladesh. With the vision of Minister Dr. Rajitha Senaratne, I feel with time we should be able to join the government and private sector to achieve these goals.


Certain drugs are sold at quite expensive prices but they are imported at very low costs. Doesn't SPMC have any control over this mafia?
There are up to 700 to 800 percent markups and sometimes they exceed 800 percent on some drugs imported. The Health Minister has come up with a price control mechanism as a part of the new drug policy. I feel we could control this in the coming year and have a set formula for all the drugs sold in Sri Lanka. Also, I should mention that the drugs produced by us, SPMC, would automatically regulate the market prices of similar drugs and therefore the price variations will be minimal. We manufacture these drugs in the generic name and therefore need not pay high value for the same drug with several brand names.


Why is SPMC special?
Our specialty is that our formulae are developed in-house by our own and the ownership rights are solely of SPMC.


What are some of the key financial highlights achieved over the years?
The annual sales value was less than Rs.500 million in 2003 but by 2014 it has reached Rs.1.7 billion. In 2013, there was a significant increase of nearly Rs.2 billion. In the year 2009, the gross profit was approximately Rs.220 million and in 2014 it has reached up to Rs.392 million. In March 2015, we had the highest output of products in the SPMC history. We are one of the few state corporations that generate profits and operate by our own funds.


What is the difference between SPMC and SPC?
State Pharmaceutical Corporation (SPC) imports and sells drugs to the Health Services Department whereas SPMC manufactures and sells the products to government hospitals. SPMC is also planning to increase its manufacturing capacity and provide certain drugs to SPC in future.


What are the improvements you have planned within the next five years?
We have planned to introduce new facilities to increase production and also join hands with private-public partnerships with local investors to increase product range and product quantity. Our aim is to support the vision of the Health Ministry in terms of the new drug policy and play a main role in its effective implementation. Also, we welcome interested parties in this field to join and contribute to this initiative.

---
Add comment

Comments will be edited (grammar, spelling and slang) and authorized at the discretion of Daily Mirror online. The website also has the right not to publish selected comments.

---